Home Care Nurse Boynton Beach, FL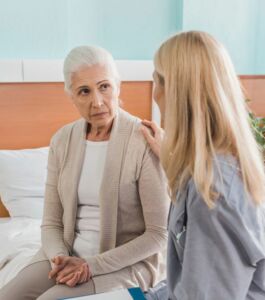 If your elderly parent has a medical condition that makes it difficult for him or her to do daily tasks, you should speak with a home care nurse in Boynton Beach, FL from Expicare Nursing, Inc. While you may be unsure of whether your parent will be on board with the idea, it's important to be aware that many elderly people are reluctant to the idea of home care. This is often because your loved one is fearful that home care will result in the loss of their independence. However, there are several strategies you can use to convince your loved one that a Boynton Beach, Florida home care nurse is the right course of action.
Choose the Appropriate Time and Place
When you are discussing a sensitive topic like a home care nurse Boynton Beach, FL residents trust, it's important to do so at the right time and place. Ideally, you'll want to do it when your parent is calm and in a generally good mood. If you try talking about this subject when your parent is stressed or upset about something, the conversation might not go so well. The setting is also important. Don't talk to your parent about home care in a restaurant or other loud place with many distractions. Try to discuss the subject in your parent's home, where he or she feels the most comfortable.
Find Out Why Your Parent Is Resistant to Home Care
If your parent seems uneasy about receiving services from a home care nurse in Boynton Beach, FL, you should find out why. Once you find out the answer, you should offer your parent words of encouragement. For example, if your parent is worried about a stranger coming into the home, explain that a Florida home care nurse must undergo extensive background checks and reference checks before they are hired.
Talk About the Benefits
When you bring up the topic of home care, your parent may automatically focus on the negative aspects. That's why you should steer the conversation to the benefits of home care as soon as possible. For example, if your parent has trouble remembering to take medication, let him or her know that an in home care nurse in Boynton Beach, FL from Expicare Nursing, Inc. will administer medications every day so that he or she feels well.
Allow Your Parent to Sit in During the Interviews
It's a good idea to include your parent in the interviews you have with home nurse candidates. Allow your parent to ask the candidates questions and pay attention to how he or she reacts with each one of them. After each interview, ask your parent what he or she thought about the candidate. If you are able to include your loved one in the hiring process, he or she may be more keen on the idea of home care.
Call in a Professional Home Care Nurse from Boynton Beach, FL now!
If you're still having trouble convincing your parent about the idea of home care, don't hesitate to have a professional, like a family physician, talk to him or her. There are times it's easier for a parent to talk to a professional rather than a family member about their concerns.
If you follow these tips, you will have an easier time talking to your aging loved one about home care. Be patient and don't get discouraged if your parent doesn't accept the idea right away. To learn more, talk with a home care nurse in Boynton Beach, FL from Expicare Nursing, Inc. now!
In-Home Care vs. Nursing Home
Many seniors prefer to stay in their familiar surroundings and "age in place." They often find that living out their later years in their own homes offers them greater independence than living in a nursing home.
With a Boynton Beach, FL home care nurse, today's seniors can enjoy a wide variety of choices in what their lives will be like in the years to come. Options can range from still-active seniors who are looking to downsize, to elderly people with medical conditions that need frequent professional care. There are several things to consider when you or your loved one is weighing in-home care vs. nursing home care.
Access to Care
In-Home Care
Care at home is definitely possible, especially with the help of a home care nurse trusted by Boynton Beach, FL residents. However, it is essential to consider how much care an aging adult will need, and when he or she will need it. Home care agencies like Expicare Nursing, Inc. provide a host of services from assistance in daily tasks and companionship to more intensive medical care. A Boynton Beach, FL home care nurse can help a senior to maintain their quality of life for as long as possible. Care services can range from just a few times a week, to daily, or even overnight.
Nursing Home
Nursing homes may ensure you or a loved one will always have immediate access to medical-grade nursing care, although facilities vary in their offerings.
Access to Familiarity
In-Home Care
Aging adults often prefer to remain in their homes where they have routine, comfort, and familiar surroundings. This is a primary benefit to accessing a Boynton Beach, FL home care nurse. However, there may be challenges. When a once-manageable home becomes challenging to maintain—cleaning, lawn care, and other chores can add to a senior adult's burden.
Nursing Home
Elderly adults, especially those with dementia, often find change especially confusing and upsetting. Moving from familiar surroundings into a new living facility can cause substantial stress, frustration, and worry. In some cases, there may be ways to ease the transition.
Burden of Cost
In-Home Care
The more care a senior requires, the more expensive the care can be. However, in-home elder care options might make the most sense for some aging adults. Expicare Nursing, Inc. will work with you to determine the level of care necessary, which may make accessing a Boynton Beach, FL home care nurse more accessible for your loved one.
Nursing Home
The number of nursing homes available for the elderly or disabled increases yearly, as the number of aging people in the United States escalates. Some nursing homes only accept specific payment options, making it important to first consider the availability of finances. Assisted living and full care facilities can be costly. The cost of a nursing home depends on numerous factors, including services provided, location, and whether the facility offers short-term, long-term, or acute care. While many believe that this may be a less expensive alternative to in-home care, this may be far from true. A Boynton Beach, FL home care nurse allows you to customize the frequency of care based on the needs of your loved one.
Staying at Home with the Help of Trusted Boynton, FL Home Care Nurses
If the decision is made to stay at home, Expicare Nursing, Inc. is available to discuss personalization of care with you and your loved one. They will establish an in-home care routine and work to match an aging adult with the best caregiver for his or her needs. For more information about how Expicare Nursing, Inc. can benefit you or a loved one; call our Boynton, FL home care nurses to discuss how we can help an aging adult feel safe and cared for while aging in place.