Home Health aide in West Palm Beach, Florida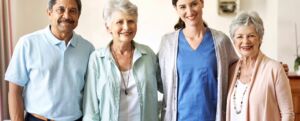 Age sneaks up on us–every one of us. As we watch our loved one's mental and physical health decline, we're often surprised and bewildered. What seemed to be small problems are growing into signs that our parent or family member may need more care than we can provide. We may be unsure of what to do, but one thing we know for sure–we want to prepare for the future properly. You can do that by hiring a home health aide that West Palm Beach, FL trusts from Expicare Nursing.
How Can a Home Health Aide in West Palm Beach, Florida Help?
Home health aides can provide health monitoring and treatment. They'll also assess your parent or family member's health and vital signs. Any significant changes are noted, and the nurse reports his or her findings to the patient's physician and family.
A home health aide in West Palm Beach, FL is also qualified to administer medications, injections, and provide medical treatment due to illness or chronic disease. They tend the elderly, disabled, chronically ill, and cognitively impaired by performing the needed medical therapies and treatments in the home of their clients.
Depending on specific health care needs of the client, a home care nurse may provide short-term or long term treatment. West Palm Beach, FL home health aides can address issues that are simple in nature, or complex and specialized.
Sometimes more than just medical care is needed for activities of daily living (ADLs or ADL). ADL is a term used in the healthcare space that describes the types of activities related to daily self-care, such as mobility problems, difficulty going to the toilet, or the inability of the patient to bathe by themselves. Some common ADLs are:
*Dressing
*Self-feeding
*Functional mobility (moving from one place to another while performing activities such as getting in and out of bed, or a chair)
*Toilet hygiene (includes getting to the toilet, self-cleaning, getting up from the toilet)
*Bathing or showering
*Personal hygiene (includes brushing/styling hair, shaving, grooming activities)
A West Palm Beach, FL home health aide can assist with ADL activities in addition to providing medical treatments and therapies.
Home health aides in West Palm Beach, FL can also be a principal source of companionship for seniors. They talk to their patients and gather information about their physical and emotional status.
Your Aging Parent Needs In-Home–Now What?
Once you've determined that a home health aide in West Palm Beach, FL is necessary, there are still a few more things to consider. You'll likely want to speak with your loved one about home care and gain their understanding about what it will mean for them. They'll need to know the benefits they're getting and how exactly they'll be helped. Expicare Nursing can detail the main advantages of a home health aide in West Palm Beach, FL for you and your loved one so that an informed decision can be made.
To recap, a home care nurse provides the necessary medical treatments and therapies at the patient's home or the home or a family member. They are clinically trained and typically have specific certifications or licensures. Contact Expicare Nursing today about getting home a health aide West Palm Beach, FL trusts for your loved one, please reach out to our office at (561)736-1422.