Alzheimer's Care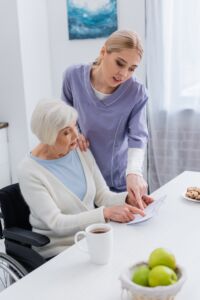 The specially trained nurses at Expicare Nursing understand that everyone experiences Alzheimer's disease in their own unique way. We also understand how difficult it can be for loved ones responsible for caring for a family member with a progressive illness that causes memory loss, like Alzheimer's disease. Our caregivers are specially trained in Alzheimer's and Dementia care to provide in home care that is designed to gently encourage someone with Alzheimer's using patience, specific activities, diversion and some shared laughter.
Our in home care services allow your loved one to maintain their daily routines and familiar surroundings, preserving their independence. We can help your loved one avoid the emotional trauma of leaving the emotional source of stability their home provides; while helping them cope with the dementia illness and providing the respite care and piece of mind that is so important for the entire family.
Our caring staff is available to you or your loved ones for as little as one hour bath visit to round-the-clock care. Some of the Alzheimer's care services provided are:
Bathing
Dressing
Toileting
Feeding and Meal Preparation
Incontinence Care
Medication reminders
Transferring
Escort and Transport to Dr. appointments and events
Shopping and Errands
Light Housekeeping
Companionship including reading, card playing and board games, etc.
Respite Care for Family Members
Fall Precautions Assistance
Foot Massage for relaxation and to enhance circulation
If your loved one was recently diagnosed with Alzheimer's, you may feel overwhelmed and have a lot of questions. You know that your family member will need constant care, but don't want to put him or her in a nursing home. You want your relative to stay in his or her home and be around familiar surroundings. Well, that's entirely possible through Expicare Nursing.
An in-home care nurse can come to your loved one's house every day to look after him or her. Here are some of the benefits of home care for Alzheimer's patients:
Familiar Setting
It's especially important for Alzheimer's patients to remain in a familiar setting. If they go to a nursing home or other facility, they may become more scared and confused. If you hire a home care nurse from Expicare, your loved one can stay in the comfort of his or her own home. Your family member can sleep in the same bed, eat in the same kitchen and watch television in the same living room.
Monitor Symptoms
Unfortunately, Alzheimer's is a disease that continues to get worse. One week a patient may feel okay and then the next week feel much worse. That's why it's so important to have a qualified in-home nurse nearby from Expicare Nursing. He or she can check in on your loved one every day and monitor his or her symptoms closely. If our nurse believes your family member's symptoms are getting worse, he or she can notify you right away.
Provide Treatment
Although there's no cure for Alzheimer's, there are medications available that can help ease some of the symptoms. An Expicare in-home care nurse can ensure your loved one takes the medications every day on time so that he or she feels better.
Encourage Nutritious Diet
Eating a healthy diet is very important for Alzheimer's patients, but many of them may struggle doing this on their own. They may get overwhelmed with all the food choices or forget to eat altogether. If you hire an Expicare in-home care nurse, he or she can help prepare nutritious meals for your loved one and make sure that he or she eats them.
Companionship
It's not uncommon for Alzheimer's patients to feel depressed and lonely. They may not understand all the changes that are going on in their lives and can feel very isolated. An in-home nurse doesn't just provide medical care, he or she can also give your loved one companionship. Our nurse can chat with your family member about daily life, listen to his or her concerns and fears, and offer words of encouragement.
As you can see, hiring an in-home nurse from Expicare Nursing can help provide many advantages to an Alzheimer's loved one, so please call us for more information today.