Home Health Care Boynton Beach, FL 
The Many Advantages of Home Health Care in Boynton Beach, FL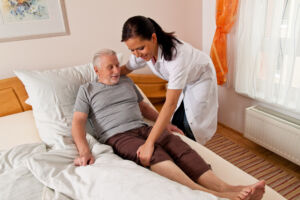 Health care providers for home health care in Boynton Beach, FL understands that transitioning your older loved one to a healthcare facility can be as devastating to the elder as it is for their family members. Thankfully, there is another solution that works for many individuals and their families. Expicare Nursing provides home health care that is the preferred option for those in Boynton Beach, FL who wish to provide high-quality, compassionate, and personalized care for their loved one without them having to leave home. Call today to find out more about us and how we can provide the home health care in Boynton Beach, FL that your loved one deserves. Below is an overview to help you understand the benefits of home health care.
The Benefits of Home Health Care
The primary benefit of receiving Boynton Beach, FL home health care is that patients can get the personal care they need while enjoying the comfort and privacy of their own home. When someone is aging, suffering from a serious condition, or recovering from major surgery, they may not be able to care for themselves. Whether their inability to cook for themselves, maintain proper hygiene, or stay safe is temporary or indefinite, a home health care solution can be ideal.
        Home health care in Boynton Beach, FL allows patients to enjoy the comforts of their own home. Being in familiar surroundings can be more calming than in an unfamiliar environment that can be overwhelming with its unfamiliar people, sounds, scents, colors, and routines. Your loved one may already be struggling with their transition to the advanced stages of their life; home health care can feel comforting to them.

        Home health care can help patients recover from surgical procedures, injuries, or illness faster and more fully than if they are in a medical facility.

        Home health care allows the family members of the elderly or ill individual to get critical assistance from a trained professional. This is often significant for the family members because caring for a loved one can be emotionally and physically exhausting.

        Boynton Beach, Florida home health care is more convenient for loved ones of the patient to come and visit. Healthcare facilities must control the large number of visitors to their residents by dictating days and times for visits, but this can make it difficult for loved ones to coordinate schedules.

        Home health care is usually more affordable than inpatient care.

        Home health care serving Boynton Beach, FL can allow the patient to enjoy greater independence and freedom.

        Home health care for Boynton Beach, Florida is known to reduce the numbers of re-hospitalizations experienced by patients.
Our Focus
At Expicare Nursing, our focus is on providing premiere home health care services in Boynton Beach, FL. While providing critical care and compassionate services to our patients, we keep their family members updated on the information they need to know about their loved one. Call us today to learn more about how home health care in Boynton Beach, FL from Expicare Nursing can be the solution for your family.