In Home Health Care Delray Beach, FL
Common Myths About In Home Care
As people get older, it can become more troublesome for them to complete daily tasks, such as doing the laundry or cooking dinner. They may get fatigued more easily or have health issues. The most fragile and medically complex clients can benefit greatly from a higher level of caregiving and monitoring. This oversight can be performed by licensed, knowledgeable, and advanced educated clinicians. If your elderly loved one is having difficulty with normal tasks and wants to stay at home, consider home care with private duty nurses.
Here are some common myths about private duty nursing care that you may not realize.
Caregiving is just designed for very sick people. This is one of the biggest misconceptions about private duty assistance. The truth is that a person does not have to have a serious illness to benefit from home care. If your elderly family member is relatively healthy, but still needs assistance with regular tasks, like cleaning the house or preparing meals, caregiving may be a good option.
If you have a family, caregiving is not necessary. Many people think it is rewarding to help take care of their elderly family members. However, being a caregiver can take a toll after a while. If you have a full-time job and a family of your own to take care of, you might just not have the time to care for your elderly loved one around the clock. That is what professionals in caregiving services are there for. If you hire a caregiver, you can give yourself a break.
In home caregiving is too expensive. Unfortunately, some people shy away from hiring a caregiver because they assume they can't afford it. However, in home caregiving is more affordable than people think. It is certainly less costly than placing your loved one in a nursing home or assisted living center. Private duty nursing care services are available in the home, hospital, and also independent and assisted living facilities.
Home caregiving does not provide the same level of care as other senior services. Some people assume that their loved one will not receive adequate care with in home services. Luckily, this is not true. In fact, the caregiver will just be looking after your family member, so your loved one will receive personalized attention. Furthermore, private duty nursing caregivers can do everything aides can do, but more. So you can trust that you are in good hands.
Caregivers are not trustworthy. If you are allowing someone you do not know very well to look after your loved one, it is normal to have some concern. You may wonder if the caregiver is trustworthy and has your family member's best interest in mind. Fortunately, reputable caregiver agencies conduct extensive background checks on caregivers before hiring them. They want to make sure that they hire the best and most trustworthy people.
You don't get to choose your home caregiver. This is a common concern among those considering in home care. You will be glad to find out that you definitely have a say in your care. If you do not feel comfortable with your current caregiver for whatever reason, you can call the caregiving agency and ask for a replacement. They want to make sure that you feel comfortable and happy.
In some situations, care from a nurse is essential, and may be better suited compared to traditional home care services. This is particularly true if a person is going back home from the hospital after undergoing intensive surgery. For example, if someone has cardiac problems and needs their vital signs examined, medication administered, ostomy care, catheter care, wound care, infusion, or transitioning into hospice care, then private duty nursing is the recommended option.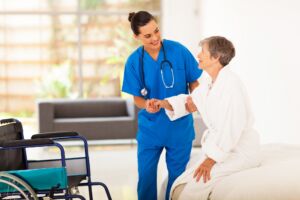 When considering in home health care for their loved one in Delray Beach, FL, families often have many questions about which services may be covered by Medicare. In Florida, the services you receive from an in home health agency may fall under the Medicare demonstration program. If this is the case, either you or the agency may submit a pre-claim review request from Medicare in advance of seeking in home health care services in Delray Beach, FL. This can be helpful in order to understand to what degree Medicare will provide coverage for those services. We encourage you to call us at Expicare Nursing with your questions about this process. Below is some general information about Medicare and coverage for in home health care in Delray Beach, FL, though it is important to clarify and confirm with Medicare about your family's financial obligations for these services. You can also learn from them if you meet their requirements for in home health care coverage.
In Home Health Care Services in Delray Beach, FL Commonly Covered by Medicare
Medicare hospital insurance falls under Part A and medical insurance falls under Part B. Between these two parts of Medicare, the following in home health care services in Delray Beach, FL are often covered:
        Occupational therapy.

        Physical therapy.

        Speech language pathology services.

        Intermittent or part time in home health care provided by an aide.

        Intermittent or part time in home skilled nursing care.

        Medical social services.
Contact us at Expicare Nursing to learn how we coordinate doctor-ordered services for your loved one when we provide in home health care services in Delray Beach, FL.
What Medicare Does Not Usually Cover
Though there may be exceptions, Medicare usually does not cover the following services:
        Meal deliveries to the home.

        24-hour-a-day in home health care.

        If the only care your loved one needs is help with dressing, bathing, or using the bathroom, these services are considered personal care or custodial care and may not be covered.
Eligibility for Part A and/or Part B Medicare Coverage
To meet eligibility requirements for Medicare coverage under Part A and/or Part B, you must meet all of the following:
      Your loved one must be under the care of a doctor and receiving services under a care plan that a doctor is reviewing on a regular basis.

      A doctor must certify that your loved one requires one or more of the following:
a: Speech language pathology, physical therapy, or another type of continuous occupational therapy service. These services must be safe, specific, and effective for your loved one's condition. The duration of these services must be reasonable and offered by qualified therapists for reasons of effectiveness and safety. The services must be offered by a Medicare approved or certified in home health care agency in Delray Beach, FL.
i: The condition must be expected to improve within a reasonable and predictable timeframe, or;
ii:Your loved one requires a skilled therapist to effectively and safely address their condition, or;
iii. Your loved one requires a skilled therapist as part of a maintenance program for their condition.
      Your loved one must be doctor-certified homebound. If your loved one needs more than intermittent or part time skilled nursing care.
Contact us at Expicare Nursing to learn more about the in home health care services we offer to Delray Beach, FL families and which may be eligible for Medicare coverage.