Live in Elderly Care Delray Beach, FL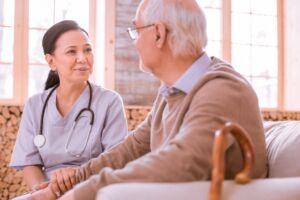 Expicare Nursing provides live in elderly care services in Delray Beach, FL. The needs of the elderly vary from person to person which is why we offer individualized care. If your loved one requires special care due to a medical condition or has other specific needs, contact us at Expicare Nursing to learn how we can help your elder. We recognize the importance of live in elderly care for families in Delray Beach, FL who wish to avoid entering their loved one in a healthcare facility. Expicare Nursing provides quality services for patients and confidence for their family members in knowing their elder is well cared for.
Our Trained Nurses
Our nurses at Expicare Nursing are highly trained in providing effective and safe services for those who require live in elderly care in Delray Beach, FL. We are happy to provide you with recommendations from current and previous clients and their families on request. Our staff takes great pride in making sure our patients are comfortable and well cared for in their homes.
24/7 Elderly Care Services That We Provide in Delray Beach, FL
It's important to remember that the care your loved one requires can change over time, based on their age, physical condition, and other concerns that may improve or worsen. When our patients' needs change, or their physicians specify that adjustments must be made in medications or therapy, our caregivers will make sure their needs are met. We offer quality 24/4 elderly care services in Delray Beach, FL. Contact us to find out more. Some of the most popular services that we offer are these:
        Personal care. This usually includes mobility assistance as well as bathing, toileting, and dressing.

        Home assistance. In addition to providing companionship in the home, our 24/7 elderly care can include meal preparation, grocery shopping, running errands, medication supervision, picking up prescriptions from the drugstore, and light housekeeping.

        Specialized care for those with Alzheimer's or other forms of dementia. Our nurses are trained to provide 24/7 elderly care that caters to those who may have challenging behaviors and difficulty engaging with others in healthy and balanced ways. Our caregivers keep your loved one stays safe while enjoying the comforts of being in their own home. When changes in the elder's behavior occur, or new behavioral patterns develop, our caregivers will notify the family so they stay informed.

        Hospice assistance. 24/7 elderly care services in Delray Beach, FL can be invaluable for those in hospice or palliative care scenarios. Our caregivers can provide respite for exhausted family members as well as offer specialized care for the elder.
Expicare Nursing Provides Quality 24/7 Elderly Care Services for Delray Beach, FL
Many families in Delray Beach, FL count on Expicare Nursing to provide quality care of their elderly loved one. 24/7 care allows elders to avoid going into a healthcare facility which represents unfamiliar surroundings, odd noises, and strangers. Call us to find out more about how 24/7 elderly care in Delray Beach, FL may offer the best solution for your loved one.
Benefits of Home Care for Seniors 
There are plenty of benefits of elderly individuals living in their own homes that are undeniable and if you are in this situation, it may be in your interest to contact a nursing care agency in Delray Beach, FL that families can trust. When an aging loved one begins struggling with household tasks and activities of daily living, it can become a source of worry for many families. Not only can these professionals help your family members but they can also provide plenty of benefits. 
Having these professionals around can give family members like you some peace of mind that your loved one is being taken care of. If you have concerns about a loved one's ability to live independently or your growing responsibilities as their sole caregiver then consider the benefits of home care for seniors. 
Companionship and Social Opportunities
When people age it becomes clear that the importance of social connections is maintained. There are many elderly individuals that live alone and if they have trouble getting around, lose their driving privileges, or do not have family and friends nearby they can start to feel isolated. When a nurse is called in they provide the companion connection, but they can also help maintain other social connections. Things as easy as going for walks, or even gardening can be a good step in keeping your loved one feeling good. 
There comes a point in most aging adult's life that driving just isn't a safe option for them. Be it because of their eyesight, or even reaction time, it isn't an easy process to give up freedom. However, this blow to their independence can severely limit their ability to complete everyday tasks, such as buying groceries, going to church, and even visiting friends who don't live close by. A professional caregiver can help your loved ones with these tasks and ensure that they are safe while in a vehicle. 
As you may have noticed, independence for your loved ones is important. A professional caregiver can help extend your family member's independence while they live at home. They prove the extra support that can be the key to ensuring your loved one's independence. This can go a long way towards improving your loved one's self-confidence and overall outlook on life. It also allows you to know that they are getting where they need or want to be safely. The trained professional Delray Beach elderly care providers can ensure that your loved one stays independent safely. 
Peace of Mind for the Family 
It doesn't matter how far you live away from your aging loved one, the worry about them doesn't go away. When you hire an elderly care provider that is with your loved one, you can rest assured that they are getting the one-on-one care that they need. This can give you peace of mind knowing that even if you aren't there, your loved one is being taken care of. It can also reduce your stress and prevent caregiver burnout. 
If you have any more questions about what a Delray Beach live in elderly care provider can do for you and your family don't hesitate to reach out to Expicare Nursing for more information.
Frequently Asked Questions About 24/7 Care
Caring for an aging relative can be challenging, and while several options may be available many may wish for their loved ones to age in place with Delray Beach, FL live in elderly care. When a loved one can age in their home, they are provided with several advantages that allow them to remain surrounded by their personal items. For many people looking for available options for their aging loved ones, the thought of a relative remaining in their home can feel like a tall order, especially when their loved one requires additional support and care. However, professionals from Expicare Nursing, now part of TheKey, will share that with in-home care services; loved ones can remain in their homes while also ensuring that they are safe and well cared for. When considering these services, families and aging loved ones will have many questions they will be looking for the answers to:
What are common challenges elders may face when remaining in their home?
Aging can be a complex process that can be difficult for the person experiencing it and those around them to come to terms with. While in some cases, it may be evident that a person may need additional care, in other situations, families may struggle to identify signs that a person may need help. However, when a proactive approach is taken, it's possible to develop a plan that ensures your loved one can age in their home with Delray Beach live in elderly care services. When living at home, aging loved ones may experience challenges that include a lack of socialization, a higher risk of home accidents, difficulty getting to medical appointments or completing errands, ensuring that medication is taken properly, eating a healthy diet, and more.
Who makes decisions for an elderly loved one?
Making decisions for aging parents can be a touchy subject, especially when parents are in denial of their debilitations or unwilling to surrender some of their decision-making abilities. Know that the time may come for children of aging loved ones will need to step in and make decisions for them. As a caregiver, it may be essential to obtain a power of attorney so that you are able to make medical and financial decisions for your loved one that is in their best interest.
What services may be needed for a person who wants to age in place?
Offering a loved one the opportunity to age in place can be advantageous and provide many benefits. Putting together a plan of services that allows your loved one to remain in their home can be the best decision families can make. With help from an agency like Expicare Nursing, it's possible to develop a tailored service plan that could include: 24/7 in home care, companionship, meal delivery, medical care, errand services, and more.
What are essential things to look for when choosing in-home care for a loved one?
It can be challenging to turn over the care of a loved one to professionals who do not know your loved one. In doing so, it's essential to hire trusted and trained professionals who are able to provide the best care possible to loved ones. As a caregiver, it's vital to work with professionals with experience, proper training, compassion, empathy, and trust. It's also imperative to ask any prospective providers for references as well.
Is in-home elder care affordable?
Any type of care can be expensive. Nursing homes can become incredibly affordable, and so can in home care. However, before making any decisions, it's crucial to understand the options and associated costs clearly. Many may need to realize that in-home elder care can be tailored to suit clients' needs, making it a plausible choice for those who may not believe it is a feasible solution.
To learn more about services like Delray Beach live in elderly care available from providers like those from Expicare Nursing, schedule an appointment to get started.