Live in Elderly Care Delray Beach, FL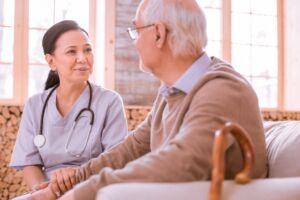 Expicare Nursing provides live in elderly care services in Delray Beach, FL. The needs of the elderly vary from person to person which is why we offer individualized care. If your loved one requires special care due to a medical condition or has other specific needs, contact us at Expicare Nursing to learn how we can help your elder. We recognize the importance of live in elderly care for families in Delray Beach, FL who wish to avoid entering their loved one in a healthcare facility. Expicare Nursing provides quality services for patients and confidence for their family members in knowing their elder is well cared for.
Our Trained Caregivers
Our caregivers at Expicare Nursing are highly trained in providing effective and safe services for those who require live in elderly care in Delray Beach, FL. We are happy to provide you with recommendations from current and previous clients and their families on request. Our staff takes great pride in making sure our patients are comfortable and well cared for in their homes thanks to the live in elderly care we provide.
Live in Elderly Care Services That We Provide in Delray Beach, FL
It's important to remember that the care your loved one requires can change over time, based on their age, physical condition, and other concerns that may improve or worsen. When our patients' needs change, or their physicians specify that adjustments must be made in medications or therapy, our caregivers will make sure their needs are met. We offer quality live in elderly care services in Delray Beach, FL. Contact us to find out more. Some of the most popular services that we offer are these:
        Personal care. This usually includes mobility assistance as well as bathing, toileting, and dressing.

        Home assistance. In addition to providing companionship in the home, our live in elderly care can include meal preparation, grocery shopping, running errands, medication supervision, picking up prescriptions from the drugstore, and light housekeeping.

        Specialized care for those with Alzheimer's or other forms of dementia. Our caregivers are trained to provide live in elderly care that caters to those who may have challenging behaviors and difficulty engaging with others in healthy and balanced ways. Our caregivers keep your loved one stays safe while enjoying the comforts of being in their own home. When changes in the elder's behavior occur, or new behavioral patterns develop, our caregivers will notify the family so they stay informed.

        Hospice assistance. Live in elderly care services in Delray Beach, FL can be invaluable for those in hospice or palliative care scenarios. Our caregivers can provide respite for exhausted family members as well as offer specialized care for the elder.
Expicare Nursing Provides Quality Live in Elderly Care Services for Delray Beach, FL
Many families in Delray Beach, FL count on Expicare Nursing to provide quality care of their elderly loved one. Live in care allows elders to avoid going into a healthcare facility which represents unfamiliar surroundings, odd noises, and strangers. Call us to find out more about how live in elderly care in Delray Beach, FL may offer the best solution for your loved one.