Home Health Care Services in Palm Beach County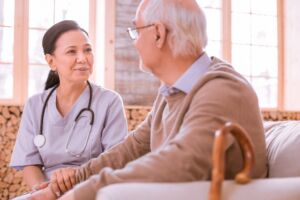 Expicare Nursing, a leader in South Florida home health care, is owned and managed by two highly qualified Registered Nurses, who have been serving the South Florida community for over 35 years.
Expicare has the appropriate personnel to help you and your loved ones in a variety of health related situations. From Post-surgery assistance to compassionate care for patients and families struggling with Alzheimer's, Expicare is there for you. Each and every situation is handled with exceptional care.
An Expicare nursing assistant or home health aide can assist you with the activities of daily living, including bathing, dressing, cooking, laundry and light housekeeping. Transportation to the doctor and other appointments or to be there to help the patient walk and prevent falls are just a few of the many ways they can help.
Expicare Nursing is a recognized leader in home health care and has been placing caregivers in clients' homes throughout Palm Beach County for over 30 years.
We proudly serve the following cities in Palm Beach County:
Atlantis
Belle Glade
Briny Breezes
Cloud Lake
Glen Ridge
Golf
Greenacres
Gulf Stream
Haverhill
Highland Beach
Hypoluxo
Juno Beach
Jupiter
Jupiter Inlet Colony
Lake Clarke Shores
Lake Park
Lake Worth
Lantana
Loxahatchee Groves
Manalapan
Mangonia Park
North Palm Beach
Ocean Ridge
Pahokee
Palm Beach
Palm Beach Gardens
Palm Beach Shores
Palm Springs
Riviera Beach
Royal Palm Beach
South Bay
South Palm Beach
Tequesta
Wellington
Expicare Offers Options For In-Home Care
If your elderly family member requires medical and personal assistance because of illness, injury, disability, or other health issues, one option you have is Expicare in-home nursing assistance.
There are many different options that a home health care agency like name of company offers families just like yours, including caregivers and different types of medical specialists, such as nurses, health aides, and occupational therapists. Instead of having your loved in a nursing home facility, your loved one is able to stay in their own home.
Finding a Compassionate Nursing Agency
Finding the right agency for your loved one's needs requires a great deal of research before choosing the agency that will eventually take care of your elderly family member. The following tips can help you make that decision:
Living in Familiar Environment
For many seniors, being in an unfamiliar environment, even if it for a limited period of time, can be scary. There is also the added stress that many seniors worry about losing their independence and their own personal space. By staying in their own home, your loved one is surrounded by personal items, furniture, family photos, and other items which bring them comfort and security.
Remaining in their own home has a much better emotional and physical impact on seniors than moving them into a cold nursing home institution. The price of home nursing care is also much less expensive than a monthly nursing home bill.
Supplemental Care When Needed
Another positive aspect to using an in-home nursing agency is that they can supplement care given by the family members when needed. This enables family members to take time for themselves and their family. Many family members try to juggle taking care of their elderly relatives, as well as their own families, jobs, and other commitments they may have. In some cases, an Expicare Nurse can even take over all the duties family members had been doing up until that point.
The Potential Benefits Despite Apprehension
Unfortunately, as positive as the experience may be, many seniors still balk at the thought of having someone else come in to take care of them. They may feel very uncomfortable and apprehensive with a stranger coming into their home. They may be afraid the person will rob them or hurt them.
But explaining all the positive things a home nursing professional will proved, as well as the extensive background checks the agencies put their employees through, may help alleviate your loved one's fears. If they are still uneasy, offer to do a trial of a week or so with a member of our Expicare nursing team to see how it all works out.
Involve Your Senior Loved One
If they are physically and emotionally able, you can even have your elderly loved one help in the search of finding an agency to work with. They should also be part of any interview process, as well. By having them participate in this process, it will help them know they still have some control over their lives.
We can meet with you and go over the different types of professionals we can provide, in addition to learning more about your senior relative's needs. To learn more about how Expicare Nursing can help your family, contact our team today.