In Home Health Care Boynton Beach, FL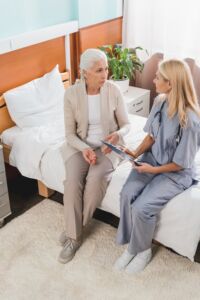 In home health care is an ideal solution for many Boynton Beach, FL families. Hospital care is limited, and long term health facilities can be expensive but not necessarily offer quality care for your loved one. In fact, a distressing number of nursing homes are detrimental to the physical and emotional well-being of its residents. There are many reasons why home health care provide by Expicare Nursing can be preferable as compared to alternate options.
We Care for Your Loved One's Needs
When Expicare Nursing is your loved one's home health care provider in Boynton Beach, FL, you can feel confident that their needs will be considered by our thoughtful caregivers. If your loved one is not able to express their wishes, or if they have certain requirements as specified by their medical providers, their home health care provider from our agency can make sure their needs are taken into account. We understand the importance of providing premium care for the most vulnerable in Boynton Beach, FL.
Offering an Individualized Home Health Care Program in Boynton Beach, FL
Everyone is different, and so are their needs. At Expicare Nursing, we recognize that each of our patients will have different priorities and physical, emotional, and mental challenges. Throughout the course of their remaining years, their needs may change. We understand that adjustments may be necessary and your home health care provider will respond accordingly. When your family initially meets with us, we will work together to determine which of our home health care services in Boynton Beach, FL will best serve your loved one's needs. This may include assistance for any of the following:
        Dressing and undressing.

        Bathing, toilet, and other personal hygiene needs.

        Walking.

        Shopping and other errands.

        Transportation to medical and other appointments.

        Proper and healthy meal preparation.

        Housekeeping.

        Monitoring and administering of medications.
Respite for Family Caregivers
A primary benefit of seeking home health care in Boynton Beach, FL is the respite it offers exhausted family members who providing care for their loved one. When family members care for an elder or ailing relative, it is often physically, emotionally, and mentally exhausting for them. Because they are usually not formally trained in providing health care services, a family member may feel unnecessary guilt or confusion in not being able to offer the utmost in care. Expicare Nursing provides home health care services in Boynton Beach, FL by trained and experienced professionals. We are available every day of the week, from mornings until evenings. If you require weekend or holiday care, contact us.
Changing Circumstances Require a New Approach
When someone reaches an advanced age, or experiences dramatic health challenges, their needs are different from years past. As a result, it is important to recognize how their quality of life can be impacted and how they must be cared for as a result. Moving an elder to an unfamiliar facility can be traumatizing for them as well as their family members. Our home health care providers in Boynton Beach, FL are often the optimum choice for bridging that gap—contact us today to find out how we can be your family's best choice.