Home Care Nursing in Boca Raton, Florida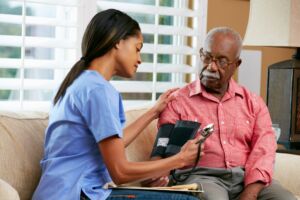 One of the hardest things about getting old, especially for a person who is independent, is accepting the fact that there are some things that you just need assistance with. Sometimes this can be caused by medical issues that need causes us to need extra help or it can just be because age does cause us to slow down. Whatever the reason, there are options available right here in Florida that can help seniors and their families remain at home for as long as possible and avoid the need to have to go live at an assisted living or nursing home facility. One of the best options is home care nursing Boca Raton, FL families recommend from Expicare Nursing.
Our agency provides a wide variety of home care options, depending on your family's needs. These include:
· Alzheimer's disease care
· Hospice care
· Hourly care
· Live-in care
· Parkinson's disease care
· Post-surgical care
· Stroke care
Our home care nursing in Boca Raton, FL includes registered nurses (RN) and licensed practical nurses (LPN). All of our nurses have extensive training and experience in order to meet the needs of your loved one. Our nurses can provide intensive care nursing services, bedside care, hospice support, post-surgical care, hourly visits, and more.
We also have a full staff of highly trained and compassionate certified nursing assistants and home health aides who can provide both support and companion care to help keep your loved one active. Our assistants and aides can help your senior with medical care, personal hygiene care, provide meals, light housekeeping, transportation, and more.
Finding Help
When the time comes that a decision needs to be made regarding home care nursing and assistance, many families hesitate to have that conversation, but it is so crucial for the well-being and safety of your elderly loved one, to be honest about your concerns. It is helpful if the whole family can be involved in the discussion and the senior knows that it is the family's love and concern for them that is the utmost priority.
When looking for an agency that will provide the care your family needs, the following factors should be considered:
· What type of caregiving options does the company provide?
· Do they perform background checks on their employees?
· Will the company be able to meet the family's needs in the future should those needs increase?
· How will the senior's home nursing staff be chosen?
· What happens if a caregiver cannot keep their shift?
· What type of liability insurance does the agency carry?
With so many options of care that may be needed and so many agencies that claim to provide quality care, it is critical for a family to do their due diligence in the company they select. Ask friends and acquaintances for referrals and check online reviews of different agencies. A quality agency will schedule an in-home assessment and develop a plan that they feel will best suit the needs of your elderly loved one and family.
For more information on home care nursing in Boca Raton, FL, and how it can help your family, call Expicare Nursing today.