Home Care Nursing in Boca Raton, Florida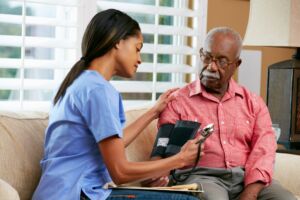 One of the hardest things about getting old, especially for a person who is independent, is accepting the fact that there are some things that you just need assistance with. Sometimes this can be caused by medical issues that need causes us to need extra help or it can just be because age does cause us to slow down. Whatever the reason, there are options available right here in Florida that can help seniors and their families remain at home for as long as possible and avoid the need to have to go live at an assisted living or nursing home facility. One of the best options is home care nursing Boca Raton, FL families recommend from Expicare Nursing.
Our agency provides a wide variety of home care options, depending on your family's needs. These include:
· Alzheimer's disease care
· Hospice care
· Hourly care
· Live-in care
· Parkinson's disease care
· Post-surgical care
· Stroke care
Our home care nursing in Boca Raton, FL includes registered nurses (RN) and licensed practical nurses (LPN). All of our nurses have extensive training and experience in order to meet the needs of your loved one. Our nurses can provide intensive care nursing services, bedside care, hospice support, post-surgical care, hourly visits, and more.
We also have a full staff of highly trained and compassionate certified nursing assistants and home health aides who can provide both support and companion care to help keep your loved one active. Our assistants and aides can help your senior with medical care, personal hygiene care, provide meals, light housekeeping, transportation, and more.
Finding Help
When the time comes that a decision needs to be made regarding home care nursing and assistance, many families hesitate to have that conversation, but it is so crucial for the well-being and safety of your elderly loved one, to be honest about your concerns. It is helpful if the whole family can be involved in the discussion and the senior knows that it is the family's love and concern for them that is the utmost priority.
When looking for an agency that will provide the care your family needs, the following factors should be considered:
· What type of caregiving options does the company provide?
· Do they perform background checks on their employees?
· Will the company be able to meet the family's needs in the future should those needs increase?
· How will the senior's home nursing staff be chosen?
· What happens if a caregiver cannot keep their shift?
· What type of liability insurance does the agency carry?
With so many options of care that may be needed and so many agencies that claim to provide quality care, it is critical for a family to do their due diligence in the company they select. Ask friends and acquaintances for referrals and check online reviews of different agencies. A quality agency will schedule an in-home assessment and develop a plan that they feel will best suit the needs of your elderly loved one and family.
For more information on home care nursing in Boca Raton, FL, and how it can help your family, call Expicare Nursing today.
Balance Independence with Health and Safety
It's no secret that as we get older, we start slowing down a little – but a home car nursing in Boca Raton, Florida, can help you live your best life while retaining the independence you value so much. Slowing down doesn't mean giving it all up and moving straight into a nursing home, but it may mean needing a bit of extra help around the house.
In-home nursing is an essential service that can keep you or your loved ones independent, healthy, and happy. But how do you know when it's time to contact a nursing agency? There are a number of warning signs to consider, and although you or your loved one may be a little resistant to the idea of home care nursing, you can still develop a care plan that works best for everyone involved.
Know the Signs of Malnutrition
One of the most obvious signs that you or your loved one might need in-home nursing care is malnutrition. Some of us don't eat as much as we get older, but there's a point at which this becomes dangerous and hazardous to our health. There are a number of different reasons our appetites aren't as active, and it can be hard to pin down the exact cause. But, it's just as important to eat right and eat enough.
One of the most obvious signs of poor nutrition is a change in attitude or moodiness. No matter your age, if you're not eating enough, you won't be feeling your best. Your relative might typically be a cheerful or outgoing person, but if they're suddenly combative or uncharacteristically rude, you might want to do a little digging about their diet.
Loose-fitting clothing is also a giveaway. It sounds extreme, but even if your loved one is skipping a meal a day, they can lose enough weight to make their clothes sag. If someone you care about has dropped a few sizes despite already being a healthy weight, you should ask them whether or not they've been eating enough.
Low energy is one of the most obvious signs of malnutrition in elderly people. While it's common for older people to slow down, a complete lack of energy can prevent them from achieving the independence we all hold in such high regard. Having low energy means being too lethargic to prepare meals in the first place, which can be a dangerous cycle.
Sometimes it takes a bit of detective work to determine whether or not your loved one is eating enough. Be on the lookout for expired food in the fridge. This is another giveaway that the person you care about isn't eating as much or as often as they should, and it could be a sign that you should consider home care nursing in Boca Raton, FL.
Get in Touch with Expicare Nursing Today
There are a number of reasons people might stop eating as much as they should: As we get older our taste buds change, and in other cases certain medication might make some (or most) foods completely unappetizing. Whatever the reason, it doesn't change the fact that nutrition is key to a happy and healthy lifestyle.
When you want to maintain a degree of independence and comfort, you shouldn't have to sacrifice your health. Instead, your loved one can count in in-home nurses who can ensure they're getting the nutrition they need. Get in touch with Expicare Nursing today, and see how home care nursing in Boca Raton, FL can help.