Home Care Nurse in Boca Raton Florida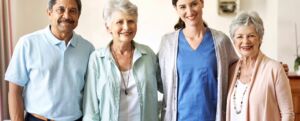 Boca Raton FL home care nurses aren't something that many people consider until they have a loved one who needs it. However, this option can help make aging in place possible for many people who would otherwise need to be admitted to a skilled care facility. To get a better idea about service provided by home care nurse Boca Raton FL at Expicare Nursing, read on.
Home care nurses help independent adults avoid or delay the need to leave the home they know and love. Nurses strive to provide both professional skills and well-polished social skills. This kind of nursing care demands a certain mindset, a strong foundation of nursing skills, and excellent interpersonal skills. After all, a home care nurse in Boca Raton Florida should be able to provide comfort on all levels.
What Are In-Home Nurses?
These nursing professionals are either registered nurses (RNs) or licensed practical nurses (LPNs). They can provide the needed services to assist with medical issues that threaten an aging adult's ability to live independently. Seniors get scheduled nursing care for many different medical matters, including:
General skilled medical care
Check and monitor vital signs
Administering medications
Giving injections
Wounds treatment and care
Performing medical therapies
Ostomy care
Venipunctures
Post-surgical treatment and care
Boca Raton FL home care nurses can take on a variety of different forms of support:
Intermittent scheduled visits, where the home care nurse visits the patient or family at home to provide a skilled nursing service
Private-duty home care, where the nurse comes to the home to provide care for extended hours
Hospice care at home, where a nurse provides home hospice nursing care in a specialized care program.
Boca Raton FL home care nurses provide in home care that may be especially helpful for patients who:
Don't require continuous attention, such as the kind provided in a skilled nursing facility or a long-term acute care facility
Need additional help recovering from or learning to manage their health conditions at home
Have functional or mobility issues
Have difficulty leaving the home
Indeed, home nursing care may be the most patient-centered care a nurse can provide.
From the Patient's Perspective
When viewed from the patient's perspective, home care nursing in Boca Raton FL may be pref­erable to inpatient care because it can:
Reduce exposure to infections
Reduce the risk of healthcare errors. A home care nurse doesn't have to divide and prioritize their time, as they deal with a single patient. Therefore, making medication errors and other potentially harmful mistakes is less likely
Improved patient choice
Patients who remain at home can have pets, wear what they want, eat what they want, and have whatever visitors they want.
Additionally, many patients with terminal conditions prefer Boca Raton FL home care nursing because they wish to pass away in the comfort and familiarity of their home, not in a nursing home, hospital, or another facility.
When health conditions and the aging process threaten the independence of many senior adults, home health nurses can step in and provide the professional care that allows them to remain at home. To find out more about Boca Raton FL home care nursing services, contact Expicare Nursing to discuss you or your loved one's needs.