Home Health Care in Boca Raton, Florida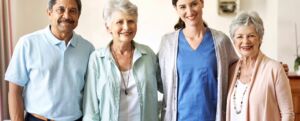 When your loved one is having a hard time, you may need home health care Boca Raton, FL from Expicare Nursing. When you take care of a parent or grandparent, it can be extremely overwhelming, physically, financially, and emotionally. Unfortunately, it is not always possible for family members to take care of their elderly loved ones, especially if they are in poor help and frequently need medication, supervision, or help with their basic needs. This is where home health care in Boca Raton, Florida can help you and your family. We care about the wellbeing of your loved one and know that it can be difficult when you feel that you have no one to turn to. Instead of taking your loved one to a nursing home, however, you should look at the option of having an in-home nurse so that your parent, grandparent, or another family member can get the help they need right at home. For more information on how our in-home nurse team can help you, please call us now.
I've heard of the term "aging in place" before. What does this mean?
Aging in place can be the ideal situation for your family. It means that instead of going to a nursing home or other care facility, your loved one is allowed to grow old in the comfort of their own home or in the home of one of their family members. We believe that in most circumstances this is the ideal situation.
I'm not sure what my schedule is or what my loved one's schedule is. Can I change appointment times?
Yes. The point of having an in-home elder care nurse is to tend to your loved one's needs. If the original appointment time no longer works for your family, please call your Boca Raton home health care agency to see another time we can schedule.
How can I get started with your team?
We want to get to know you and your family and see how we can help your loved one. To do this, you should call our office and we can go over things like:

Your loved one's schedule and the cost.
What type of care they need and what their health status is.
Creating a healthcare plan individualized to your loved one.
Finding a time when it would be best to meet in person and get to know your loved one.
Contacting Home Health Care Boca Raton, Florida Residents Rely On
There are many services that we offer to help your loved one, and our in-home nurses can ensure that your loved one is taken care of medically. This could be through making sure they take their medication throughout the day, administering medication, helping with physical therapy after a surgery or an accident, or other medical procedures that you or other family members may be hesitant to do.
The safety and health of your loved ones are paramount, and we want to ensure that they are getting the quality of care that they need. To speak with a team member about our services and setting up a consultation, call Expicare Nursing to discuss Boca Raton, FL home health care now.