Home Care Nurse West Palm Beach FL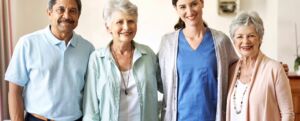 A home care nurse in West Palm Beach, Florida aims to enhance every life they touch with quality and commitment to nursing care. A home care nurse West Palm Beach FL provides solutions for affordable and trustworthy care for adults who wish to age in place. The nursing professionals at Expicare Nursing will visit you or your loved one at home.
Compassionate and experienced home care nurses in West Palm Beach FL take great pride in providing the companionship and best senior care possible. They are expected to be caring, reliable, and professional. To find a perfect match, each in-home caregiver is carefully screened, interviewed, and selected for their experience and passion for making a difference in the lives of aging adults. This may include all home care professionals, including nurses, caregivers, certified nursing assistants, and home healthcare aides.
Mom and Dad deserve the best nursing care
Each West Palm Beach FL home care nurse is either a registered nurse (RN) or licensed practical nurse (LPN), They can provide the skilled medical care your family members needs, from administering medications and injections to dressing wounds to performing medical therapies. They can assist with your loved one's activities of daily living (ADLs) during their time with an aging adult, as well.
A medical caregiver, home care nurse, home health caregiver, or in-home nurse is the name given to someone who is a registered nurse (RN) or a licensed practical nurse (LPN) who provides medical assistance to patients in the comfort and familiarity of their own homes. This can replace the need for an aging adult to be resituated into a nursing home care or long-term care facility.
If your aging adult family member requires medical and personal assistance due to illness, injury, post-surgical recovery, disability, or other health conditions and problems, a West Palm Beach FL home care nurse can provide the support you need to ease your concerns.

The search to find the right in-home agency
Finding the right home care agency for yourself or your loved one's needs requires a significant amount of research. Indeed, choosing the agency that will eventually take care of your aging family member can be an arduous and challenging process.
From medication reminders and companionship to daily grocery shopping, meal preparation, and walks in the park, home caregivers make it possible for seniors to age in place while living in their own homes. At Expicare Nursing, we use the latest technology to monitor the care we provide. That helps to ensure that caregivers show up on time and are ready to provide the care and companionship an aging adult needs and deserves.
We provide home caregivers or home health aides who are supervised by registered nurses, certified home care managers, or geriatric social workers. We have the necessary personnel to help you and your beloved family member in a wide range of health-related situations. Whether you need post-surgery and recovery assistance or a compassionate caregiver who can oversee an aging adult struggling with Alzheimer's, our agency is here for you. We strive to ensure that every situation is handled with extraordinary care and professionalism.
Indeed, there are many varied options that Expicare Nursing offers families like yours, including caregivers and medical specialists. Instead of having your family member in a nursing home, your loved one can stay in their own home. Call today to find out more about a home care nurse West Palm Beach FL families trust.