Home Care Nursing in Boynton, Florida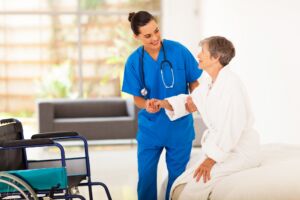 As your loved one ages, you may be considering home care nursing Boynton Beach, FL, residents trust. Understandably, you want to give your loved one or aging family members the best chance to live happily and have a high quality of life. You want to make sure that they're comfortable and that they're receiving the best care possible. As they get older, their needs evolve and it may become increasingly difficult for family members to assist them. And, for many seniors, aging brings the fear of losing their independence or having to place the burden of their care on their children and other family members. Life in a nursing home is also not the most desirable option for some elderly individuals. Home care nursing in Boynton Beach, Florida from Expicare Nursing, Inc. may provide the solution the whole family is seeking.
Seniors may feel a sense of confinement or feel limited in places like skilled nursing facilities. With in-home nursing care, seniors gain the advantage of remaining among their friends and surroundings, enabling them to feel secure and happy. They can maintain their freedom and sense of dignity. They don't have to go through the inconvenience of adjusting to a new environment. With the care provided by a home health care aide, they can maintain privacy in their home while getting individualized care and attention.
In-home nursing care allows families to stay connected more easily, and brings convenience to families who may have to travel further to a nursing home. Visits to nursing facilities can feel impersonal since there are many other residents at assisted living centers. Sometimes it's hard to communicate the needs of your loved one to a larger team of staff. With in-home care, you have primary contact with just one healthcare professional. The convenience and benefits of home care nurses are extensive, and these professionals can provide a variety of services, even those that are specialized and complex.
Home Care Nurses are Educated, Skillful, and Clinically Trained
Boynton Beach, FL home care nursing agents are clinically trained caregivers. They have the proper level of education and the skills to manage and support your loved one's particular physical and emotional needs. They also have continuous education so that they have up-to-date knowledge about specific types of care and nursing skills. Nursing aides know how to learn and adapt to their patients' needs so that they can provide the best quality of care. Depending on their level of education, certification, and/or licensure, in-home nursing staff typically can perform various medically related tasks including:
Administering medications and intravenous injections.
Maintaining a safe, hazard-free environment for a patient.
Caring for those with chronic and life-threatening illnesses or disorders.
Monitoring a patient's medical status while keeping detailed records for overseeing and partnering with medical providers.
Providing alerts, updates, and feedback to family, other caregivers, and primary physicians regarding any changes in the patient's physical and/or emotional symptoms.
Providing wound and traumatic injury care.
Maintaining tracheostomy, colostomy, and ventilator care and tube feedings.
Providing hospice and palliative care.
Educating family members about proper patient care
Other Home Health Care Aide Qualifications
In addition to formal education and skills, an in-home caregiver that you hire should be one that your loved one feels comfortable around. Your loved one should feel at ease, and not intimidated or neglected around an aide. Before you decide on a candidate, ask your loved one about the qualities they prefer in a candidate. Have your loved one meet the aides and observe their interactions. Does the aide seem friendly and personable? Do they take the time to get to know their patient? Hiring an in-home aide with the right personality is a big factor, since it can affect the level of care your loved one receives. Take note of any concerns or issues they might raise. Here are some qualities to look for in a caregiver:
Patient
Friendly
Empathetic
Reliable
Strong listening/verbal skills
Able to control emotions
Can resolve conflict
Strong attention to detail
Ongoing surveillance by a trained medical professional could help to quickly identify and address worsening or preventable health triggers and situations. Home health nursing aides know what signs to look for and respond to so that a patient is in stable condition. When searching for an aide that you can trust, you want to make sure the aide has the specific qualifications and caregiving experience you are looking for. To avoid complications, you may want to look for a Boynton Beach, FL home care nursing agency or home care nurse who will use a proactive approach to caregiving and focus on prevention.
Medical Care and More
However, there's more than just medical care involved. Much like other senior caregivers, in-home nurses may also provide homemaking services such as light housekeeping and cooking for patients, driving, and other tasks, too. They can educate family members about how to maintain a patient's room and conduct proper patient care during the hours when an in-home aide is not present.
It's important that you have open communication with an in-home aide to avoid conflict or confusion about expectations regarding your loved one's care. They will need time to understand and get to know your loved one. Having an aide in your or your family member's home will take some time to get used to. Remember that some days for them may be more stressful, and they also want to provide the best care for your loved one.
An in-home nurse can also help with their everyday activities, such as:
Feeding
Bathing
Grooming
Getting getting out of bed
Personal and bathroom hygiene tasks
Getting dressed
Climbing stairs

What to Look For in at a Home Care Nursing Agency Boynton Beach, FL Trusts
Ideally, you'll want to find a nurse with whom your loved one can relate to and feels safe and comfortable. Mainly because they will be working closely with your family member and giving them the medical and physical support they need to age in place happily and healthily.
If you are looking for private care nurses or any other type of arrangements to care for an aging loved one, research the care providers in the local area. Contact an in-home elder care nurse and ask questions. Share openly about your concerns and let them tell you how they can help your parent or loved one live the best quality life possible without sacrificing their preferred living arrangement and independence. To learn more, speak with a member of the Boynton Beach, FL home care nursing team at Expicare Nursing, Inc. today!