In Home Elderly Caregivers in Boynton Beach, Florida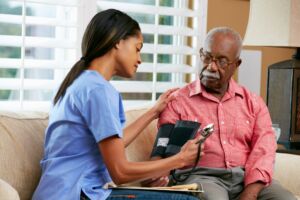 Our in home elderly caregivers Boynton Beach, FL families, turn to are available to provide your loved ones with the assistance and care that they need. For over 35 years, we have been providing Florida residents with exceptional care that they can depend on. We know that there might be several reasons for home healthcare. When it comes to your elderly parent or loved one, we know that you will probably weigh out all of the available options. Chances are you are considering between in home care and a nursing home facility. There are several advantages to in home care and several reasons why you should consider our Boynton Beach, FL, in home elderly caregivers. To learn more about our trusted care providers and the services available at Expicare Nursing, Inc. call our office today.

The Advantages of In Home Care
Providing your family member with access to in home care gives them many advantages and opportunities. When searching for care for someone that you care deeply about, our in home elderly caregivers serving Boynton Beach, FL know that you will want to make sure that they receive the very best. The following are some advantages to accessing in home care:
#1 Independence
Independence is a critical component to your elderly family member's health, happiness, and emotional well being. It's not uncommon for those placed in a nursing home to lose a big part of their independence. Because of this, many elderly and their families are choosing in home care so that their loved ones can age in place. This allows them to receive the care that they might otherwise receive in a nursing home while remaining in their homes.

#2 Personalized Care
Working with our Boynton Beach, FL in home elderly caregivers allows you to have the care and needs of your loved one personalized. You will be able to ensure that they receive the attention and care they deserve with staff that can focus entirely on their needs. You might find that in a nursing home, caregivers might be tending to several residents at a time, which might make it challenging for your loved one to get their needs met properly.
#3 Allows Them to Stay Home
Chances are your loved one would like to age in their home, surrounded by their personal belongings. With the proper care from our Boynton Beach, FL in home elderly caregivers you can be rest assured that they will have an improved quality of life and better physical health.
#4 Help When You Need it Most
Honoring your aging parents' wishes to remain in their home can feel like a heavy burden to bear. Chances are you have other responsibilities that require your attention. Most adult children cannot care for their parents full time. Additionally, taking on this level of responsibility can be exhausting for a caregiver. This is why in home health care in Boynton Beach, FL, might be appropriate for you. We can give you peace of mind in knowing that your loved one is receiving competent and compassionate care and provide you with the much-needed break.
Expicare Nursing, Inc.
Finding care for your loved one doesn't have to be as stressful and overwhelming as it may appear at first. At Expicare Nursing, Inc. We are fully prepared to assist you in making a plan for in-home care for your elderly loved one. To learn more about our in-home elderly caregivers in Boynton Beach, FL, call us today!