In Home Health Care Boca Raton FL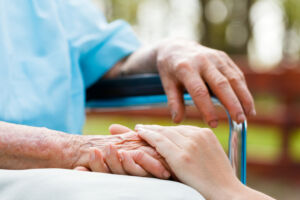 When you have an elderly loved one who is suffering from memory problems like Alzheimer's or dementia, you may benefit from speaking with our Boca Raton, FL in-home health care service professionals about your options. Understandably, many family members of those who are suffering simply do not have the time and/or medical training that it takes to intensively care for memory care patients. However, taking memory care patients out of their familiar home environment and placing them in a facility equipped to care for those with memory challenges can actually be more detrimental to their health because they will be in an unfamiliar setting with people they don't know. In-home nursing services can provide many benefits to vulnerable and at-risk elderly patients who need more customized care. Thankfully, there are options available for those who hope to keep their loved ones at home, even though they themselves lack the kind of time and/or medical training that generally make this arrangement feasible.
If you have an elderly loved one who is suffering from Alzheimer's disease or dementia and you would like to find an in-home nurse who can help them manage their needs successfully on a day-to-day basis, please reach out to our Boca Raton, FL in-home health care service today for more information. Our nursing professionals and caregivers have experience providing specialized care like Parkinson's disease care, stroke care and dementia care. For patients with certain medical conditions, they require care from a healthcare professional who understands their needs and is knowledgeable about the proper caregiving procedures. Since they cannot enjoy as much independence as other types of patients, they rely on trained and experienced professionals to give them quality care and support. 
Do I need an in-home nurse or are there other care options available?
There are many different types of in-home care options available to you and your loved one, including personal care services for bathing and dressing, homemaker services for housekeeping, and even companion services to bring your loved one emotional support and supervision. However, it is likely going to be important that your loved one is visited by an in-home nurse (either regularly or intermittently) to help meet their needs. Memory care patients generally need access to skilled help when it comes to managing various physical struggles, dealing with their medications, and ensuring they are getting the nutrition and care they need. They may have trouble concentrating or remembering how to care for themselves, especially with more complex tasks like changing clothes or going to the bathroom. The role of nursing professionals is to provide ongoing care throughout the day in the patient's home so that their needs can be met. Determining whether your loved one needs specialized care can be tough, but our services can help you make the right choice. 
Evaluating Your Options
It is important to understand that our Boca Raton, FL in home health care services can be provided on several levels and for varied periods of time. On the extreme ends of the Expicare Nursing services spectrum are live-in nurses who provide full-time care and hourly visits from home health aides. Whether your loved one needs care for a few hours at a time or needs round-the-clock care, we can set up a schedule that works best for you. Your loved one can receive care from a trained and qualified nurse. 
Registered nurses and licensed practical nurses can provide many of the same services as they would in a clinical setting. For example, they can provide catheter care, take lab draws, administer Insulin injections, and perform wound care. By contrast, home health aides and certified nursing assistants can escort patients to medical appointments, provide medication reminders, and assist with daily tasks such as dressing and bathing. Some patients require a lower level of care while others—such as memory patients and post-op patients—require a higher level of care. Some patients need full-time assistance and supervision, while others may only need a weekly visit so that they can have their feet checked and their toe nails clipped.
At Expicare Nursing, we provide Boca Raton, FL in home health care assistance options that vary from hospice, stroke care, Alzheimer's care, and Parkinson's care to bath visits and massage therapy. Our nurses have a wide range of experience and have worked with many types of patients, so they know how to adapt to the needs of their patients. No matter what you or a loved one may need, chances are that we can adjust our approach to meet that need and exceed your expectations with the high-quality level of our compassionate care in the process. We are dedicated to providing the highest level of care so that you and your family can get peace of mind knowing that your loved one is in good hands. 
Assessing a Patient's Needs as They Evolve Over Time
Some of our patients are elderly, while others are not. Some of our patients have experienced short-term medical challenges, while others require long-term care. Regardless of the circumstances that our patients find themselves in, most of the time, the level of care that a patient requires tends to evolve over time—for either better or worse. It is, therefore, important to adjust our approach to a patient's evolving needs. We can provide you assistance that always fits your needs as they evolve. Without this flexibility of approach, patient care can suffer. As a result, it is important to keep lines of communication open between you, your family, and the experienced Florida caregiving team at Expicare Nursing.
You know your loved ones best, so it is crucial that you are transparent about your loved one's needs, their medical history, and the type of care you require. This allows us to deliver the best possible care that we can so that your loved one stays safe and healthy. If we are unaware that your situation has evolved, we cannot provide highly-tailored personal care that will meet your needs. Active participation in the in-home nursing care process is vital to ensuring that patients receive all the care that they require and avoid having to deal with services of which they are no longer in need. Open and constant communication is necessary for us to do our job successfully so that your loved ones can be in good health. 
Asking Questions and Voicing Concerns
To that end, it is critically important that if you have questions for your Boca Raton, FL in-home health care team you ask them. We can answer any questions that you may have. You are welcome to ask about our approach to elder care and what you can expect from our services. Similarly, if you have concerns, please voice them. Our care providers are empathetic, compassionate, and deeply invested in their patient's wellbeing. However, they are human. As a result, they may be unaware that you have a question or concern until you convey your thoughts. Once you do, they will be happy to address whatever may be on your mind. We encourage you to freely ask questions so that you can understand the basics of what things we can provide you. It also helps us tailor and adapt your loved one's care plan as needed so that it is detailed and accurate. 
What should you have prepared when you are interviewing an in-home nurse?
Preparing for the interview with the in-home nurse is crucial. Asking the right questions and having the right materials ready can help you make the most informed decision. It can be incredibly helpful to find the right match for your loved one and your in-home nurse. The nurse will be working in your home, so they will be in close proximity with your family. Being able to foster trust is key, so take your time as you interview and get to know different nurses. The nurse should not just be a good fit to the family, but most importantly your loved one should be comfortable with the nurse as well. Before committing to working with someone, you can follow a few steps to finding the right person.
Determine Needs.

Your elderly loved one likely has many medical problems aside from their Alzheimer's disease or their dementia. They may be suffering from joint pain, recovery from medical procedures, or need help with their medications. Make sure you compile a list of the different needs that you hope an in-home nursing professional will attend to.

Make the Call.

When setting up an appointment with the skilled professionals at

Expicare Nursing

, ask any questions that you may have in order to better ensure that our staff is familiar with your loved one's specific needs. The more we know, the more specialized and personalized our recommendations will be.

Set Up an Interview.

It can be very beneficial to set up an interview with the in-home nurse at your loved one's home. This can help them see firsthand what the environment is like and what they will be dealing with on a daily basis.

Have Information at the Ready.

Be honest and thorough when discussing your loved one's medical needs. Let the staff know what your loved one's symptoms are, when the symptoms are worse, what medications they are taking, what their diet is, and any other information you believe will be helpful.
If you are considering getting an in-home nurse for your elderly loved one who is suffering from Alzheimer's or dementia, connect with our Boca Raton, FL in-home health care service professionals about your options; we look forward to speaking with you.
7 Tips for Hiring Home Health Services
Whether you need long-term care due to a chronic illness or are recovering from surgery, it is nice to have someone around to make your life easier by assisting with chores, running errands, and providing medical care. Hiring a service to provide in home health care in Boca Raton, FL, such as Expicare, doesn't have to be a complicated process. Here are some tips to help you:
Know what you need.
Do you need help with cleaning, cooking, and transportation? Or do you need more specialized care, such as hygiene care, physical therapy, or skilled nursing? Make sure the company offers providers with the proper training and skills to meet your needs.
Do your research.
Use the internet to find providers of in-home health care in Boca Raton, FL, or ask your family doctor who they recommend. Find out how long the agency has been serving the community. Do they provide literature on the types of services they provide?
Note the agency's qualifications.
Check with your state's health department to make sure they are properly registered and monitored. Are they certified by Medicare to meet federal health and safety requirements? Find out if they are recognized by a nationally accredited foundation. Familiarize yourself with their mission statement to see if their core values meet with yours.
How do they train and monitor caregivers?
Are the caregivers licensed and insured? Does the agency provide background checks and continuing education for their employees? Do they assign a supervisor to oversee quality control for each patient? Note how often these visits are made and who to contact if you have a question or complaint about your caregiver.
Interview care providers.
Take the time to speak with the company's employees. Are they attentive, engaged, and interested in learning about your needs? Find out how they evaluate your situation and create a care plan. Are they friendly and helpful?
Learn how they can be contacted 24/7.
What procedures does the agency have in place for handling emergencies? Ask how services will be provided in the case of a natural disaster or power failure. Do they offer a 24-hour on-call service? Find out what their average response time is.
Breakdown of costs.
How do they handle expenses and billing? Check to see what kind of coverage your insurance offers, and understand what criteria Medicare requires. Will the agency be able to arrange for any medical equipment you will need?
Finding an agency to provide in-home health care in Boca Raton, FL, such as Expicare, doesn't have to be an intimidating process. With just a little bit of planning you can find and hire the right company to fit your needs.
5 Myths About In Home Health Care
In-Home Care Is Only For Critically Ill Patients
Many home health services focus on the treatment of seriously ill patients. However, these are not the only services provided by home health practitioners. Assistance with activities of daily living is available in home health care in Boca Raton, FL. These services can be related to a person's medical condition but focus on non-medical maintenance activities such as cleaning, meal preparation and shopping. If your loved one needs a little extra help around the house, a home health professional from Expicare can provide an evaluation to determine what services may be beneficial.
Home Health Workers Are Impersonal 
You may be concerned that hiring someone from an agency to care for your loved one will result in impersonal services, or there may be a rotating staff who do not know much about your loved one's condition. A professional in home health care in Boca Raton, FL, will meet with you to perform a complete assessment of the client's needs and wants. During this assessment, the home health worker will get to know your loved one and be able to find a professional who will match their personality. You will be able to request the same professional regularly in order to build a lasting relationship. Likewise, if you do not like the home health worker you are assigned, you can request that Expicare send a different person.
In-Home Care Is Only For a Short Duration During the Day
Home health services are available based on an individual's needs and desires for care. Services are offered 24 hours per day, seven days per week. During your initial assessment, your professional in home health care in Boca Raton, FL, will determine what times you would like to schedule for your home health. Expicare will coordinate shifts among aides to provide as much coverage as you need during the day. 
Home Health Workers Steal From Their Patients
An agency hiring workers for in home health care in Boca Raton, FL, screens all potential applicants, including running a criminal background check, to determine if they have any history of theft or other crimes. Expicare also thoroughly vets all applicants through an interview process to ensure they can be trusted. Despite rigorous screening procedures, rare instances of theft may occur. Be sure to contact your home health agency immediately if you suspect something has been taken from you.

Common Myths About Home Health Care
Home care is a wonderful option for people who want to remain independent, but just need some extra help with daily tasks. However, there are certain misconceptions about home care that may prevent some people from considering it. Here are some common myths about in-home health care in Boca Raton, FL that you should not believe.
Home care is just for very sick people.

It is true that home care professionals can assist individuals who have cancer or another serious illness. However, these professionals can also assist those who are in fairly good health, but just need extra help with certain tasks, like preparing meals, cleaning or transportation.

If you have family, you don't need home care services.

If you have family members, you might assume that home care isn't necessary. Although your loved ones may find it rewarding to assist you, caregiving can be draining. To give them a break, consider hiring outside help. 

Home care is too expensive.

Some people shy away from home care because they assume that they can't afford it. However, home care is more affordable than you may think. It is a fraction of the cost of nursing homes and assisted living.

Home care professionals steal from their clients.

Another reason some people are reluctant to hire home care professionals is because they are afraid they will steal from them. Although this can occur, it is very rare. If you hire a caregiver through a reputable home care agency, he or she will likely be professional and trustworthy. They frequently conduct thorough criminal background checks on employees before hiring them.

Home care is only intended for the elderly.

While many senior citizens use home care services, home care can also benefit younger people who are dealing with a chronic illness or injury.

Home care professionals can't provide 24-hour care.

If you're someone who requires round-the-clock care, you might not think that home care is a realistic option. However, you'll be happy to know that many home care agencies do offer 24-hour-a-day care.

Home care is low-quality compared to nursing homes.

This just isn't true. Reputable health care agencies only employ licensed and skilled professionals. If you hire a home caregiver from an agency, you can expect to receive good care.
Home Health Is More Than Just Care For The Elderly 
When many people think about home health care, they think of a nurse coming in and providing care for an elderly loved one who might be suffering from terminal disease with many complications. However, in home health isn't just for olders. It can be helpful at any age in a number of circumstances. One example is using in home health so that you don't have to go into the hospital each time for follow-up care. If you are wondering if in home health care in Boca Raton, FL could benefit you, call Expicare Nursing today to speak with our staff about what services we might be able to provide you. 
Care Following Surgery
If you had a surgery that requires follow up care, in home health care can really benefit you. An experienced nurse will monitor your healing wound(s), watch for infection, and ensure you are taking any medication that your provider prescribed. If your surgery has left you immobile, having a nurse come to your house can eliminate the complication of traveling to the clinic or hospital for additional care. If you are immobile, they will also watch so that pressure sores don't develop. Your nurse will communicate with your doctor to accommodate your changing needs. 
Monitor Your Recovery
Following hospital care for a serious illness or trauma, you might not require hospital care, but you might still need help to heal completely. Especially in the time of COVID, you don't want to stay in a hospital if you don't have to. A doctor can prescribe home health care in Boca Raton, FL from a company like Expicare Nursing to assist you at home. For example, an OB-GYN might prescribe in-home care for a mother and child that had a complicated birth. The nursing staff can weigh the baby on a weekly basis, monitor vitals, and ensure mother and child are getting the nutrition they need. 
Provide Services to Those With Disabilities 
Whether someone is born with a disability or develops one later in life, they may need some support in order to live their best lives. Whether someone just needs assistance a couple of times a week or requires live-in support, home health care can provide aid so that they can be as independent as possible. It can also take pressure off of family care-givers so they can have a break from providing care. 
Helping Those With Dementia
Dementia is a very challenging medical condition. Those suffering from it slowly lose their independence, requiring more and more care from friends and family, and it can be hard to know if you are doing the right thing for them. They may become angry and erratic in their behavior. In-home providers can help you understand their actions, what to expect and work with their provider to develop the best plan of care that supports them as their condition changes. If you are looking for in-home health care in Boca Raton, FL, call Expicare Nursing to discuss your needs and begin care as soon as possible. 
How To Choose In Home Health Care
Choosing in home health care in Boca Raton, FL is a significant decision. If you are helping a loved one with that decision, you may feel the burden even more. You never want to make the wrong decision that harms anyone in your family. Often, choosing in home care for someone is an act of love. You're allowing someone to age gracefully in the comfort of their own home. Keep these four tips in mind when choosing a healthcare provider.
1. Involve Your Family
Do not try to choose a health care provider on your own. It is essential to include the loved one who needs to receive the care. His or her opinion matters because it is your loved one who will be spending the most time with the caregiver. Make sure your family trusts your decision. Likewise, the patient may know the type of caregiver he or she needs best.
2. Understand Your Needs
When it comes to looking for a caregiver or medical provider for in home patients, there are many options. In home care services are broad. Different caregivers may have experience in various types of assistance. You may need to give a lot of thought to the patient's needs. What type of care is the most important? Some people need help with household maintenance and daily tasks, whereas others may need more involved caregiving, including assistance with hygiene.
Write down what your loved one needs out of a caregiver. Where does he or she struggle in daily life? When you create the list, you can narrow down the caregivers who will most likely help with your situation.
3. Review In Home Health Care Credentials
When looking into in home health care in Boca Raton, FL, do not hesitate to find out the organization's credentials. Credentials may include years of experience in the healthcare industry, their process for staff recruitment or how they handle emergencies. Research the company in advance and be open to asking questions of your own. A reputable organization will be willing to answer any questions you have about their credentials.
4. Speak With the Providers
Get to know the potential providers before you hire anyone. Speaking with the staff can give you a good idea of the company's daily operations. Additionally, having conversations with the team may provide insight into the caregivers who are passionate about the career and competent. You have to be able to trust the caregivers.
If you or a loved one could use need-specific, temporary, or regular in-home nursing care, it may be time to start researching in home health care; Boca Raton, Florida residents can reach out directly to the experienced Florida team at Expicare Nursing, Inc. for more information. There is a common misconception in American society that in home health care is only a service utilized by elderly individuals who are unable to remain in their own homes without live-in help. While live-in assistance is the best option for some patients, most in-home health care services are provided on either a regular (but not live-in) basis, a temporary basis, or a need-specific basis. Understanding the "ins and outs" of your health assistance options will help to ensure that you are able to access the targeted kind(s) of support that you and/or a loved one may need at this time.
In Home Health Care Services – An Introduction
Our Boca Raton, FL in home health care agency offers a wide variety of services, designed to accommodate a wide variety of unique patient needs. When agencies treat patients as if they are all the same, their care suffers. We believe in individualized care, tailored to the unique needs of each patient we serve. To that end, we provide regular health care services, short-term specialized care, and need-specific care. We also employ both nurses and health aides, as not every patient requires the same level of care.
We provide live-in support for those who require the highest level of around-the-clock care. We also provide hospice support for those who are at the end of their time. We provide specialized services for Alzheimer's, stroke, and Parkinson's patients. In addition, we provide services that are temporary, which are primarily utilized by patients post-surgery and post-accident, who need significant assistance but only for a short period of time. Finally, we provide both hourly care and need-specific care (including our bathing assistance service) for those who can use regular assistance but only to meet highly specific needs. In short, if you or a loved one could use the presence and knowledge of a nurse or home health aide, chances are high that we can support whatever that unique need may be.
Some Other Services We Provide
Our staff is able to provide a multitude of services for their patients and whether it's for someone who's elderly, a patient with chronic medical conditions, or patient that needs temporary relief such as following an automobile accident, our services include:
Help with bathing.
Dressing.
Help with exercising.
Help facilitating and following a diet regimen.
Help with taking medication.
Additionally, when it comes to mental and psychological help, having an in-home nurse to keep a patient company can be very useful. As such, it's recommended that the nurse is a good fit for the patient.
What to Consider When Hiring an In-Home Nurse?
There are a few things to consider when hiring an in-home nurse to take care of you or your loved one. To begin with, it's crucial that the in-home nurse is either a registered or practical nurse who has plenty of experience taking care of patients. Ideally, you will want a nurse who has undergone in-home nursing before as it can differ from taking care of patients in a hospital or elderly home. Next, you will want to make sure that the nurse not only has plenty of experience taking care of patients but also has experience taking care of your loved one's similar needs. For example, dealing with a patient that has a medical disorder such as Alzheimer's might take more specific needs than dealing with a patient that has a temporary sports injury. Although nurses are generally used to caring for a variety of patients, making sure that your nurse will be able to deal with your loved one's specific needs is key.
How to Tell Your Family
You will most likely need to break the news to your family that you or your loved one will be receiving in-home care from a nurse. To do so, you will want to ensure that your family understands that this is the best solution possible and you've carefully given it considerable thought. They might be surprised at first and may even have many questions or concerns. Don't be alarmed if you may not have all the answers at first. Do your best to explain your reasoning and if they still have concerns, they can also speak with our team who can help answer any questions they may have.
Telling Your Loved One That They May Need In-Home Healthcare
If you have a family member who you believe would benefit from in-home healthcare you will want to break the news to them in advance. Some people are very accepting of the suggestion right from the start while for other family members it might take some time for reality to set in. The best way to approach your family member is by calmly and collectively explaining why you believe they may benefit from in-home healthcare. It's best to be non judgmental or to make them believe that they're becoming a burden. It's better to explain that you're worried about their well-being and that they could greatly benefit from an in-home nurse.
Assistance Is Available
In-home nursing care can help individuals to remain independent. In-home nursing care can also assist patients in need of temporary care after surgery, an accident, or a significant illness strikes. And although this benefit is rarely spoken about in wider society, enlisting the assistance of an in-home health aide or nurse can help to ease tensions in families that have become overwhelmed by caregiving for loved ones and the receiving of care by loved ones. Whatever your regular, temporary, or need-specific in-home health care needs may be, chances are that we can help. Connect with our trusted Boca Raton, FL in home health care agency today to learn more; we look forward to speaking with you.