In-Home Health Care – Boca Raton, FL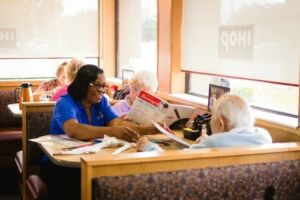 When you have an elderly loved one who is suffering from memory problems like Alzheimer's or dementia, you may benefit from speaking with our Boca Raton, FL in-home health care service professionals about your options. Understandably, many family members of those who are suffering simply do not have the time and/or medical training that it takes to intensively care for memory care patients. However, taking memory care patients out of their familiar home environment and placing them in a facility equipped to care for those with memory challenges can actually be more detrimental to their health because they will be in an unfamiliar setting with people they don't know. Thankfully, there are options available for those who hope to keep their loved ones at home, even though they themselves lack the kind of time and/or medical training that generally make this arrangement feasible.
If you have an elderly loved one who is suffering from Alzheimer's disease or dementia and you would like to find an in-home nurse who can help them manage their needs successfully on a day-to-day basis, please reach out to our Boca Raton, FL in-home health care service today for more information.
Do I need an in-home nurse or are there other care options available?
There are many different types of in-home care options available to you and your loved one, including personal care services for bathing and dressing, homemaker services for housekeeping, and even companion services to bring your loved one emotional support and supervision. However, it is likely going to be important that your loved one is visited by an in-home nurse (either regularly or intermittently) to help meet their needs. Memory care patients generally need access to skilled help when it comes to managing various physical struggles, dealing with their medications, and ensuring they are getting the nutrition and care they need.
What should you have prepared when you are interviewing an in-home nurse?
It can be incredibly helpful to find the right match for your loved one and your in-home nurse. Before committing to working with someone, you can follow a few steps to finding the right person.
Determine Needs.

Your elderly loved one likely has many medical problems aside from their Alzheimer's disease or their dementia. They may be suffering from joint pain, recovery from medical procedures, or need help with their medications. Make sure you compile a list of the different needs that you hope an in-home nursing professional will attend to.

Make the Call. When setting up an appointment with the skilled professionals at Expicare Nursing Agency, ask any questions that you may have in order to better ensure that our staff is familiar with your loved one's specific needs. The more we know, the more specialized and personalized our recommendations will be.
Set Up an Interview.

It can be very beneficial to set up an interview with the in-home nurse at your loved one's home. This can help them see firsthand what the environment is like and what they will be dealing with on a daily basis.

Have Information at the Ready.

Be honest and thorough when discussing your loved one's medical needs. Let the staff know what your loved one's symptoms are, when the symptoms are worse, what medications they are taking, what their diet is, and any other information you believe will be helpful.
If you are considering getting an in-home nurse for your elderly loved one who is suffering from Alzheimer's or dementia, connect with our Boca Raton, FL in-home health care service professionals about your options; we look forward to speaking with you.