LPN Hiring Palm Beach County, FL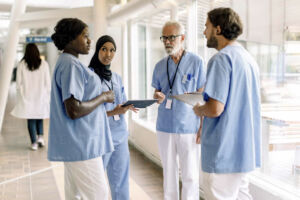 Expicare Nursing Agency's in-home care nursing services are provided by Licensed Practical Nurses, Licensed Vocational Nurses, or Registered Nurses. If your parent or another older relative is in need of periodic and consistent medical care in the home, give us a call to learn more about what we offer. In-home care nurses play an important role in ensuring that at-risk individuals in the Palm Beach County community receive the specialized care that they require. Contact us today for LPN hiring in Palm Beach County, FL.
Services Provided by In-Home Care Nurses
In-home care nurses not only treat patients, but they can also educate them about their medical conditions and associated health risks. In-home care nurses also record their patients' symptoms and medical histories, administer medications, and monitor medication effects in the event that dosages need to be modified. They can also assist with follow up care after treatments or surgeries. Contact our agency today for a consultation for your LPN hiring in Palm Beach County, FL needs.
Increasing Quality of Life for our Patients
Home care may be a viable option for you or your loved one, particularly if your family contracts a nurse to provide in-home medical services. In-home care nurses provide one-on-one attention and treatment for their patient, which is far more than someone can expect when in the care of a nursing home facility where there may not even be full-time nurses on staff. As part of the care provided by our in-home care nurses from Expicare Nursing Agency, your loved one's dietary and nutrition needs will be monitored. When the patient may benefit from an exercise routine, our in-home care LPN nurses can guide them in how to perform the exercises and explain how they will help improve your loved one's quality of life. If you or your loved one undergoes a surgical procedure or another type of medical treatment, in-home care nurses have the training and experience necessary to provide your loved one with proper post-treatment care. This includes dressing changes, administration of medications, and education for the patient and family members about self-administration of medications and routine medical care.
A Care Plan for the Individual
When a physician implements a care plan for a patient, in-home care LPN nurses can contribute to the plan and help ensure that the patient adheres to the plan. If a care plan is needed, in-home care nurses can in most cases create one. Each plan is created specifically to match the needs of the patient and may include any of the following:
Establish, maintain, and discontinue intravenous lines for medication, blood, saline, and more.

Monitor medication dosages to ensure they are administered on time and in the right amount as well as safeguard against interactions with other medication, drinks, or food intake.

Work with physicians and other medical providers to ensure that the patient is following their prescribed care routine, recording events, and observing the effects.        

Teach the patient and their family members to do all of the above.
If you would like to know more about the services provided by our in-home LPN care nurses, contact Expicare Nursing Agency today to complete your Palm Beach County, FL LPN Hiring.