Senior Home Health Care in West Palm Beach, Florida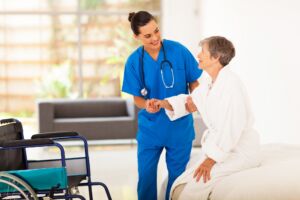 If your eldelry parent has trouble completing basic tasks, senior home health care West Palm Beach, FL residents trust may be a good option. A healthcare professional can come to your parent's home every day to assist with tasks, like washing the dishes, cooking and doing laundry. Here are some tips on how to hire the right home health care worker.
Determine Your Parent's Needs
Home health care workers can provide different levels of care. Therefore, it's important to assess your elderly parent's needs before hiring a home care professional. For example, if your parent suffers from Alzheimer's, you will want to hire someone who has extensive experience caring for dementia.
Ask the Right Interview Questions
When you conduct interviews with home care workers, it's important to ask the right questions. By asking specific questions, you can determine who is the most qualified to care for your parent. For instance, you may want to ask how many years of experience in senior home health care in West Palm Beach, FL he or she has and why he or she chose the profession. You may also want to ask hypothetical questions to assess decision making skills. For example, you could ask what he or she would do if your parent refused to take medication.
Check References
Even if you really like a candidate, you should still ask for at least three references. These references can confirm your feelings or provide you with critical information you may have looked over. Ask each reference if the home care worker was trustworthy and reliable and if they would hire the person again.
Be Clear About Your Expectations
Before you hire home health care in West Palm Beach, FL, you should be very clear about what you expect out of him or her. For example, you may need the home care worker to prepare three meals a day for your parent or drive him or her to doctor's appointments. Make sure the home care worker is comfortable with all of these expectations.
Get Your Parent Involved
Since your parent will be spending the most time with the home care worker, you should involve him or her in the hiring process. Allow your parent to sit in on the interviews and ask questions. Then, ask your parent which candidate he or she feels most comfortable with.
If your elderly parent needs extra assistance at home, consider senior home health care in West Palm Beach, FL. Call Expicare Nursing Agency today.