Senior Home Health Care in West Palm Beach, Florida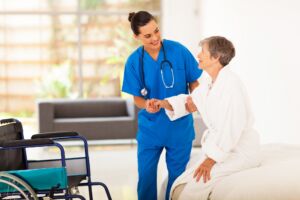 If your elderly parent has trouble completing basic tasks or is otherwise in need of in home nursing assistance, senior home health care West Palm Beach, FL residents trust may be a good option. A healthcare professional can come to your parent's home every day to assist with tasks, like washing the dishes, cooking and doing laundry. Here are some tips on how to hire the right home health care worker.
Why Do Families Opt for In Home Care?
There is no one care-related setting that is right for every patient. Some elderly individuals who benefit from assistance have extensive support networks who can tend to their needs most of the time. Others opt to reside in "assisted living" facilities or long-term residential facilities where their needs are met by professionals employed by those establishments. However, there are also many elderly individuals who benefit from certain kinds of assistance who wish to reside at home and do not have access to the kind of assistance that they require from loved ones alone. This is a common scenario, given how long so many Americans are living, they Americans enjoy being as independent as possible, and that families—however loving and devoted—are not always in a position to care for a loved one's needs on a moment's notice.
Many patients and their families have chosen to work with Expicare Nursing in order to benefit from West Palm Beach, FL senior home health care on temporary, longer term, or a semi-permanent basis. Opting for in home care allows patients to reside at home, to not feel wholly dependent upon their loved ones for assistance, and to receive whatever level of care that they require for however long they require in home nursing care. Unlike a long-term residential facility option, in home care also allows for a very personalized approach to tending to a patient's unique needs in their own home.
What Levels of Care Are Available?
Expicare Nursing offers a variety of services in an effort to accommodate the needs of each patient as those needs evolve. From live-in nurses to hourly, specialized care, our services can be highly-tailored to meet your family's individual needs over time.
It is important to understand that not every in-home nursing provider offers the same level of care. For example, our registered nurses and licensed practical nurses are legally empowered to engage in certain levels of care that those without so much formal training are not permitted to provide. They can, among other tasks, uniquely administer wound care, tube feedings, hospice care, catheter care, central line care, IV therapy, lab draws, lung sound assessments, Insulin injections, and medication management.
By contrast, our certified nursing assistants and home health aides can provide vital care that is not classified as highly-skilled nursing care. For example, they can assist with transferring, bathing, walking, fall precautions, toileting, escort to medical appointments, dressing, medication reminders, and feet care.
Each level of care is provided as often as the patient requires such attention.
What if a Patient Only Needs Short Term Care?
Oftentimes, patients request West Palm Beach, FL senior home health care services after undergoing surgical procedures, recovering from injury, or while acutely ill. When the issues that require care resolve, our caregivers reduce the frequency of their visits or halt their services altogether—at the request of the patient, of course.
The "long and short" of the approach taken by the experienced Florida caregiving team at Expicare Nursing is that as a patient's needs evolve, so does the treatment plan and service level provided by our West Palm Beach, FL senior home health care providers.
Determine Your Parent's Needs
Home health care workers can provide different levels of care. Therefore, it's important to assess your elderly parent's needs before hiring a home care professional. For example, if your parent suffers from Alzheimer's, you will want to hire someone who has extensive experience caring for dementia.
Ask the Right Interview Questions
When you conduct interviews with home care workers, it's important to ask the right questions. By asking specific questions, you can determine who is the most qualified to care for your parent. For instance, you may want to ask how many years of experience in senior home health care in West Palm Beach, FL he or she has and why he or she chose the profession. You may also want to ask hypothetical questions to assess decision making skills. For example, you could ask what he or she would do if your parent refused to take medication.
Check References
Even if you really like a candidate, you should still ask for at least three references. These references can confirm your feelings or provide you with critical information you may have looked over. Ask each reference if the home care worker was trustworthy and reliable and if they would hire the person again.
Be Clear About Your Expectations
Before you hire home health care in West Palm Beach, FL, you should be very clear about what you expect out of him or her. For example, you may need the home care worker to prepare three meals a day for your parent or drive him or her to doctor's appointments. Make sure the home care worker is comfortable with all of these expectations.
Get Your Parent Involved
Since your parent will be spending the most time with the home care worker, you should involve him or her in the hiring process. Allow your parent to sit in on the interviews and ask questions. Then, ask your parent which candidate he or she feels most comfortable with.
If your elderly parent needs extra assistance at home, consider senior home health care in West Palm Beach, FL. Call Expicare Nursing today.