Seniors: Avoiding Phone Scams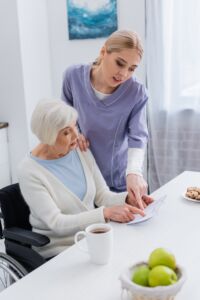 Unfortunately, con artists frequently target our aging loved ones through phone scams and other fraudulent telemarketing activities. Con artists target seniors because they are gracious and trusting and likely to have excellent credit and a nice savings account. Moreover, when elders are victims of fraud, they may be ashamed and reluctant to report the crime. When seniors report these crimes, it may be days or weeks after the crime was committed, making it more difficult for them to give accurate accounts of the occurrences and allowing the crook more time to pull off the crime successfully.
Of all the crimes and fraudulent activity committed against seniors, phone scams are likely the most common. Telemarketing fraud or phone scams typically involve individuals acting as "sales people" or "company representatives", soliciting personal or financial information in exchange for bogus products, free vacations, fake prizes or low-cost healthcare products.
Listening for the Warning Signs
Fraudulent calls often include these types of offers:
"Risk-free offers."
"Free vacations or free prizes! You just have to pay taxes or shipping costs."
"Free or discounted product. You simply need to give your bank account or credit card information."
"You must act now, or the offer won't be valid."
These "offers" should be considered warning signs. It's important to let your loved one know what to look out for so he or she can be more aware of these potential scams. In fact, the FBI warns people to say, "no thank you" and hang up if they hear any of these bogus statements.
Tips to Avoid Phone Scams
Here is a summary of the FBI's tips for avoiding phone scams:
Know the company. Only purchase from legitimate companies that you are familiar with. Before making any transactions over the phone, verify the name, business identity, business license number, and contact information. If you are not familiar with the organization, check with the Better Business Bureau at https://www.bbb.org/ or the National Fraud Information Center https://www.fraud.org/ before having any additional contact with the company.
Keep your personal information private. Never give out your date of birth, bank account information, credit card numbers, or social security number to any representatives calling by phone.
Get written documentation. Ask for brochures and hard copy information before you purchase, invest, or give to charities. If they won't send you detailed information, they may not be valid.
Do not pay in advance for any services. And don't agree to anything you don't fully comprehend.
Don't fall for the limited time offer. If the company or representative is pushing you to make a quick decision, recognize this as a "red flag." Discuss any decision with knowledgeable family members or friends before making it – and if it seems "to good to be true" or if the deal "expires" within hours, it's probably a scam. Stay away!
Do not give cash to a messenger. A "representative" that comes to your house is the way a con artist acquires your money without leaving a paper trail.
Don't be a victim twice. If you have already been a victim of a scam, be cautious about calls from sales people claiming to help you recover your losses. These could also be scams!
Always report a fraud or scam to local, state or federal law enforcement.
Trending Scams
Recent phone scams have involved con artists pretending to be from the IRS, from Microsoft or Windows tech support, from credit card companies, popular restaurants, and from phone application services. Con artists have even been known to use faith-based dating sites to gather information on victims, initiate relationships, and then create ploys to steal money.
The con artists are creative, but with a calm mind and some clear discipline, seniors can protect themselves from these phone scams. Review the tips above with your loved one to be sure they don't become a telemarketing fraud victim.
If you have questions about an aging family member who prefers to continue living independently, contact us at 561-736-1422, toll-free: 855-730-9895, or visit www.expicare.com.
Expicare Nursing, Inc.
Owned and managed by highly qualified Registered Nurses, Expicare is a recognized leader of home health care in South Florida. For over three decades, Expicare has provided unparalleled home health care to thousands of patients throughout Palm Beach County. From post-surgery assistance to compassionate care for patients and families struggling with Alzheimer's, Expicare provides highly skilled nurses and nursing assistants to care for your parents or loved ones. For more information, contact 561-736-1422, toll-free: 855-730-9895, or visit www.expicare.com.