Elderly Assistance Services Delray Beach, FL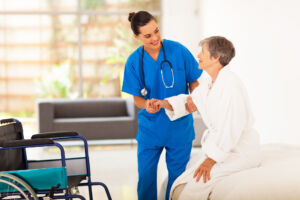 When your elderly loved one is dealing with physical or mental pain, you know that it is time to bring in elderly assistance services in Delray Beach, FL from Expicare Nursing, Inc. for proper care. Even loved ones with the best intentions don't necessarily have the required skill or training necessary to ensure that their elderly loved ones are healthy and can maintain a lifestyle where they don't accidentally hurt themselves. While nursing homes are a good option for many, other people are now turning to more flexible options like in-home elder care nurses. In-home elderly assistance services Delray Beach, Florida residents trust can offer your aging family members the independence and flexibility they need to feel comfortable as they continue growing older. For many, having a loved one sending them to a nursing home can feel like the final stop. However, in-home nursing care can encourage them to keep working hard to maintain a long and healthy life.
Why are in-home nurses a better option?
When it comes to providing your loved one with care, you want to give them the best option possible. Why would Delray Beach, FL elderly assistance services be better in your situation? They can offer many things, including:
One to one care. This is crucial. In a facility, you will often have one nurse or one caregiver tending to many different patients. When this happens, less time is given to the individual. In-home elderly assistance offers one to one care affording your loved one the time and attention they deserve.
Meal options. At a care facility, your loved one will likely have a scheduled time set aside when the staff requires them to eat, and they will probably have limited meal options that are standardized to others in the same facility. With Delray Beach, FL elderly assistance services, you can be assured your loved one is getting the proper nutrition they need in their daily meals and set a schedule that works best for your family member specifically.
Pets. If your loved one has a pet, they may become particularly stressed at the idea of having to leave their pet when they go to a facility. When this happens, they may need to give their pet up for adoption or a family member may feel obligated to keep it. On the other hand, with an in-home nurse, your loved one can still keep their pet and maintain that bond that likely relieves a great deal of stress.
Living environment. When you change up your loved one's surroundings, they will likely become very anxious at this unfamiliar environment and they may not be used to living with other people who are in the same—or even worse—condition than they are physically or mentally. However, when you have an in-home nurse, your loved one can maintain a familiar living environment that allows them to normalize their routines in a way that is most comfortable to them. Maintaining the same environment can also help them when they are having trouble with their memory and need certain triggers.
If you are trying to decide whether elderly assistance services or a nursing home facility is right for your loved one, please reach out to us today to speak with a member of our staff and set up an appointment. We would like to help your loved one live their life to the fullest. Call the Delray Beach, FL elderly assistance services at Expicare Nursing, Inc.!