In Home Care Agency in Boynton Beach, Florida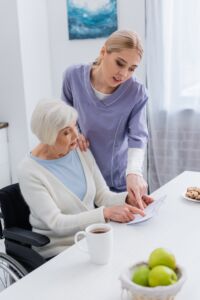 If your elderly parent has trouble completing basic tasks at home, it may be time to consider an in home care agency Boynton Beach, FL residents trust. A trained healthcare professional will come to your parent's home as often as needed to assist with various tasks, like cooking, cleaning and grooming.
How to Discuss Home Care With Your Parent
Many elderly people may resist the idea of home care at first because they're afraid of losing their independence or don't want a stranger in their home. If you're nervous about discussing this topic with your parent, here are few suggestions:
Have the Conversation Early: It's a good idea to bring up home care as soon as you start noticing minor issues, like your parent putting off the dishes for a couple of days or eating microwavable meals more frequently. This way, you won't have to make any decisions too quickly. If your parent resists the idea the first time you speak about it, don't fret. You will have plenty of time to have additional conversations about home care in the future.
Bring Up the Benefits: At first, your parent may focus on all the negatives about home care. That's why you should let him or her know about the benefits early in the conversation. For example, you could mention that home care allows someone to receive extra help in the comfort of their own home. You could also talk about how a home care worker will keep your parent safe and provide companionship.
Listen to Your Parent's Fears: Your parent may have some fears about in home health care Boynton Beach, FL residents trust, so make sure to listen to his or her concerns. For example, your parent may be afraid of losing independence. If that's the case, reassure your parent he or she will still be living in the same home and can come and go whenever he or she pleases. Make sure your parent understands that the home care worker is just there to assist with certain tasks and will treat him or her with respect.
Express Your Own Concerns: If your parent is resisting the idea of an in home care agency in Boynton Beach, FL, tell your parent how worried you are about him or her. Explain that you can't watch over him or her every day and worry that something could happen.
Enlist the Help of a Professional: If your parent has a good relationship with his or her primary care physician, consider discussing home care with him or her in the room. A physician could reiterate the benefits of home care and may convince your parent it's the right option.
If your parent needs extra help at home, contact an in home care agency in Boynton Beach, FL at Expicare Nursing today.