In Home Care South Palm Beach FL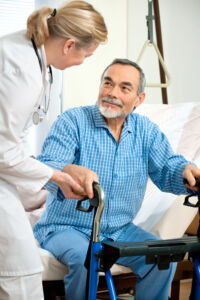 As people get older, it is not uncommon for them to slow down and develop certain health issues. However, that doesn't mean that they must go to a nursing home or other facility. If your elderly loved one had health problems and needs assistance at home, you can hire in-home care South Palm Beach Florida to look after him or her. However, it is important to know what to look for in a nurse.
Here are some characteristics the professionals from Expicare Nursing Agency, Inc. suggest you should look for in home care.
Experience
In home care can provide services in many different areas, so it is important to choose someone who has experience with your loved one's particular condition. For example, if your family member has diabetes, you will want to hire a South Palm Beach, FL in home care professional who has cared for diabetic patients in the past. This way, he or she will know specifically what your loved one will need.
Patience
Elderly people with various health issues need constant care and attention. That is why it takes a special kind of person to succeed in home care. They must be very patient and not panic during stressful situations. When you are interviewing candidates for the position, ask them about a difficult situation they've experienced with a past client and how they handled it.
Compassion
It's also essential for in home care professional to have compassion. They must empathize that their patients are having a tough time and truly want to improve their well-being. The person you hire should have a passion for taking care of others and forming strong relationships with them. Ask the candidates you interview why they chose their profession and how they nurture their patients.
Trustworthy
The person you hire for in home care in South Palm Beach, FL will be around your loved one often and have access to his or her belongings. That is why it is critical to choose someone you deem trustworthy. To determine if a candidate is trustworthy or not, conduct a background check on him or her and talk to references.
Attentiveness
In home professionals must also be very attentive. They should watch their patients closely and keep an eye out for any physical or emotional changes. For example, they may notice that their patient seems more irritable than usual or can't move around as well.
Communicative
For in home care to work, there must be good communication. The person you hire should have both verbal and non-verbal communication skills and understand what your loved one needs. He or she should also be able to keep the lines of communication open with you if there are any changes in your loved one's condition.
The in home professional you hire will spend a lot of time with your loved one, so it is important to choose the right one. Before hiring someone, make sure that he or she possesses these important characteristics.
To learn about the different in home care South Palm Beach, FL families trust that Expicare Nursing Agency, Inc. offers. Call our office today.