Private Duty Nursing in Boca Raton Florida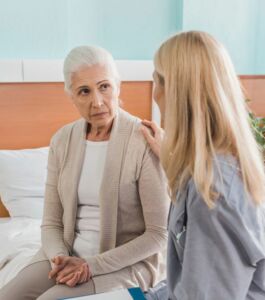 Here at Expicare Nursing, Inc, we understand that at some point, adult children of an elderly family member may realize it's time to consider Boca Raton FL private duty nursing for support. Perhaps you have begun noticing that your loved one isn't able to get dressed by themselves as easily or forgets to take their medication. Or maybe they aren't able to cook anymore and the house has become unkempt. Whatever the reason is for your cherished loved one needing help, our private duty nursing services in Boca Raton, Florida has you covered.
Here are the five benefits of hiring Boca Raton FL private duty nursing from Expicare Nursing, Inc.:
#1 – An Affordable Alternative to a Nursing Home
On average, the cost of care for a senior loved one in a nursing home is around $500 per day. If you add that up to a total bill per month, that's quite a large chunk of change. However, if you hire private duty nursing from Boca Raton, Florida, the cost may be about half that or even less depending on your loved one's needs.
#2 – Personalized Care and Support
In-home nurse services are unique, in that a senior loved one is receiving trained medical care support while also getting companionship. It isn't uncommon for strong bonds to form between our nurses and clients. Boca Raton FL private duty nursing professionals can get to know your loved one and become familiar with his or her needs.

#3 – Nurses Can Help with Light Chores
Aging adults can struggle with demands of chores around the house, like laundry, vacuuming, and dishes. An in-home nurse can help maintain a consistently healthy and tidy living environment.
#4 – Medication Reminders and Management
If your senior loved one keeps forgetting to take their prescription medication, this is a cause for concern. Especially if the senior has a condition like diabetes, pneumonia, or chronic arthritis, not taking the medication can lead to pain and a worsened condition. Boca Raton FL private duty nursing staff can ensure that the correct medication type and amount is being taken at the right times.
#5 – Prevent Malnutrition and Weight Loss
Adults that have chronic conditions or are 65 and older, can be at-risk nutritionally. This is particularly true for clients who are on bed rest, and aren't able to get up and out of bed on their own. This can contribute to the loss of body mass and muscles. An in-home care nurse can keep an eye out for symptoms related to weight loss and give feedback to the doctor about what is happening. Private duty nursing professionals in Boca Raton FL may offer food counseling or assist with preparing meals to protect against malnutrition.
We understand that watching your senior loved one age can be heart-wrenching. Family members of the senior may try to balance their life while providing care, but then find themselves severely burn-out. Just know that there are professionals who can help. If you want to know more about how our Boca Raton FL private duty nursing staff can support your loved one, then call us at Expicare Nursing, Inc right away for a consultation over the phone.