Caring For A Loved One Living With Chronic Pain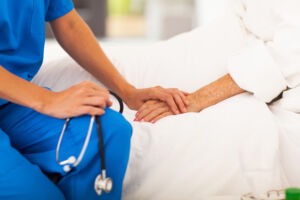 When a family member is living with chronic pain, it affects family and friends. The person with chronic pain may be unable to participate in common daily activities and may begin to withdraw socially. Avoiding relationships can lead to isolation and depression.
Learning how to help someone living with chronic pain means accepting some of these changes and navigating how to help your loved one cope, manage pain, and maintain communication. Finding a balance is important.
Here are a few tips to help your loved one stay connected with family and friends:
If he or she can manage some level of activity with pain, encourage him or her to make plans to spend time with friends and family. This can be a meal together or a short visit.
Find easy activities that you and your loved can do together. Perhaps a slow walk in the park or a simple art project can bring joy.
Encourage your loved one to take on tasks that he or she can physically perform. This will help keep him or her active and feel like a contributing member of the home.
Be patient with your loved one. His or her pain and abilities may vary from one day to another.
Take on the role of advocate and support your loved one by attending doctor appointments and helping him or her to accurately describe symptoms, ask questions, and take notes for future reference.
Sometimes, your loved one may not want to talk about the pain. Sharing your life activities, thoughts, and dreams may be refreshing conversation.
Check out online support websites for the condition that your loved one has. For example, if your loved one has been diagnosed with Multiple Myeloma, visit the Multiple Myeloma Research Foundation at https://www.themmrf.org/ to find a great source of information about the disease, physicians, treatments, etc.
Most importantly, make sure you take care of yourself Take care of yourself so that you can take care of your loved one. Get plenty of rest, exercise, eat healthy foods, and take time each day to do something special for you.
Owned and managed by highly qualified Registered Nurses, Expicare is a recognized leader of home health care in South Florida. For over three decades, Expicare has provided unparalleled home health care to thousands of patients throughout Palm Beach County. From post-surgery assistance to compassionate care for patients and families struggling with Alzheimer's, Expicare provides highly skilled nurses and nursing assistants to care for your parents or loved ones. For more information, contact 561-736-1422, toll-free: 855-730-9895, or visit www.expicare.com.