Home Safety Modifications for Seniors with Disabilities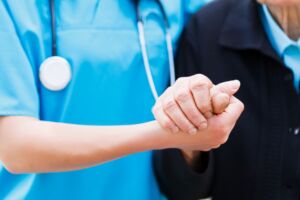 Studies show that the large majority of seniors prefer to live at home as they age. Aging seniors feel comfort and safety in their own home. And even when seniors have disabilities, they can live independently in their own homes.
The solution is home safety modifications designed to help individuals with disabilities be able to safely move through the house and perform daily living tasks, including but not limited to accessing all doors, switches, plugs, shelves, supplies and equipment. The U.S. Consumer Product Safety Commission provides a basic home safety checklist for seniors.
Evaluating Needs
Family members and friends may be able to help evaluate the needs of an aging loved one with disabilities by reviewing the checklist, but an expert can bring knowledge and experience to the process. A professional occupational therapist or certified aging-in-place specialist (CAPS) can guide the family through a needs assessment, helping everyone understand the current needs of your loved one, but anticipating how these needs will change over the coming months and years. Without this important resource, you may invest in many safety modifications, only to find out that they must be changed 4 months later.
Major Areas of Concern
Walking through the home and identifying major areas of concern will be a key piece of the work conducted with your expert resource. Typically, the main areas of concern in homes are 1) entryways into the home and into each room, 2) limited reach areas, 3) stairs and steps, and 4) bathroom facilities.
Safety Modification Examples
While recommended modifications will be unique for each situation, below are several examples of common safety modifications for seniors with disabilities…
Installing over sized light switches and levers and faucet knobs to allow for easier control.
Installing grab bars or rails to improve mobility, especially in hallways and bathrooms.
Changing shelving to pull-out or roll-out shelves, allowing easier access to storage, especially in clothing closets and food pantries.
Incorporating transfer benches to help seniors get in and out of showers and bathtubs.
Widening doorways to make enough room for walkers or wheelchairs.
Adding stair lifts or lift chairs to assist individuals with staircases.
Keep in mind that these are only a few examples, and there are many other safety modifications that may help aging seniors.
Paying for Safety Modifications
Some home modifications are relatively inexpensive while others are very costly. There are options to help pay for necessary home safety modifications. If specific modifications are prescribed by a physician, they may be covered by Medicare or Medicaid. Local area agencies for the aging may be able to help, found at eldercare.gov. The national nonprofit, Rebuilding Together, found at rebuildingtogether.org, is another great resource. The Department of Veterans' Affairs offers different grants and programs that may cover specific home modifications for aging seniors who served in the military. Seniors may also find support in the form of block grants through local community development projects. In addition, some contractors provide reduced fees to seniors.
If your loved one wants to remain independent but is starting to have difficulties reaching objects in the home, what are you waiting for? Evaluate what your loved one needs so that he or she can spend many more happy, comfortable and safe years in his or her home.
Expicare Nursing, Inc.
Owned and managed by highly qualified Registered Nurses, Expicare is a recognized leader of home health care in South Florida. For over three decades, Expicare has provided unparalleled home health care to thousands of patients throughout Palm Beach County. From post-surgery assistance to compassionate care for patients and families struggling with Alzheimer's, Expicare provides highly skilled nurses and nursing assistants to care for your parents or loved ones. For more information, contact 561-736-1422, toll-free: 855-730-9895, or visit www.expicare.com.