How to Protect Seniors from Work-at-Home Schemes
Did you know that con artists who prey on innocent seniors, sparking their interest with work-at-home or get rich quick schemes, exploit people to the tune of $400 billion annually?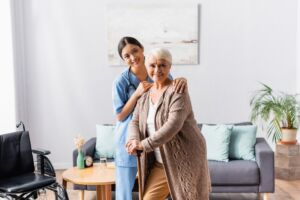 Appealing Scams. These tempting scams lure hundreds of innocent adults each week. Work-at-home scams vary from the promise of earning thousands per month through internet businesses to stuffing envelopes. Other common scams involve rebate processing where the victim is convinced to pay hundreds of dollars in fees for training and certifications and assembly work that requires upfront payment for the proper machinery. Mystery shopping, phony sweepstakes, multi-level marketing schemes, and medical billing "opportunities" round out the common at-home scams.
What do nearly all of these scams have in common? They either require upfront fees or personal credit card information. Don't part with your money or your personal information!
If you are recruited for an opportunity or see an appealing ad for an at-home job, find out exactly what the job entails, who pays for the work, when the first paycheck will be received, and what the total cost of the program is including equipment, training or supplies.
Check out the company. Research the company online and check with the Attorney General by visiting naag.org and the Better Business Bureau bbb.org in the state where the company is based.
Prevent your loved ones from falling for a scam. While you can't prevent every situation, the Federal Trade Commission (FTC) recommends a few things you can do to reduce exposure to con artists.
Put your loved ones' addresses on the opt-out lists with the direct marketing association so that they won't receive junk mail. Click here to opt-out.
Place your loved ones' phone number as "unlisted." Add their phone numbers to the "do not call" lists as well. Click here to opt-out.
Check their credit reports to find out if any new accounts were opened in their names.
If you need help explaining the scams or getting your loved ones to recognize they are victims, contact the AARP Fraud Fighter Call Center at 800-646-2283 toll-free.
Report a scam. If you or a loved one has been a victim of a scam, contact the company and request a refund. Then, file a complaint with the Federal Trade Commission (FTC) at ftc.gov/complaint or 1-877-FTC-HELP (1-877-382-4357). Also, contact the National Fraud Information Center at. https://www.fraud.org/ , the Better Business Bureau (BBB) at https://www.bbb.org/ and the US Postal Inspection Service at https://postalinspectors.uspis.gov/. Reporting the scam to these various organizations will help stop another person from being victimized.
Expicare Nursing, Inc.
Owned and managed by highly qualified Registered Nurses, Expicare is a recognized leader of home health care in South Florida. For over three decades, Expicare has provided unparalleled home health care to thousands of patients throughout Palm Beach County. From post-surgery assistance to compassionate care for patients and families struggling with Alzheimer's, Expicare provides highly skilled nurses and nursing assistants to care for your parents or loved ones. For more information, contact 561-736-1422, toll-free: 855-730-9895, or visit www.expicare.com.